A traditional Indian dish, biryani is made with lightly spiced rice and meat or vegetables. This recipe for chicken biryani is the perfect meal for busy midweek days.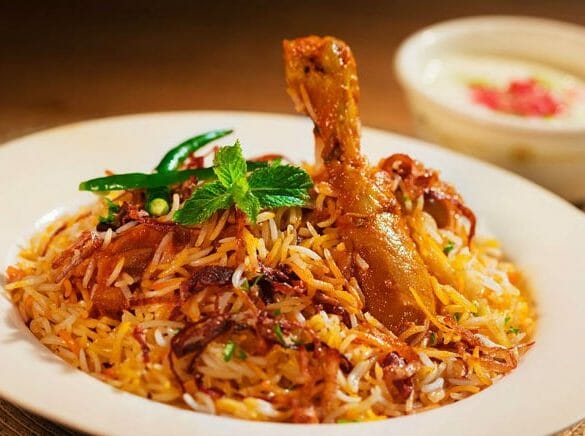 Chicken biryani is an Indian dish which is made with rice, spices and meat. The biryani is a popular dish in India and Pakistan. It is made with chicken, rice, spices, saffron, and vegetables. The dish is served with a side of pickled or fresh cucumber slices.
Originated in the Mughal Empire, an Islamic empire that ruled most of the Indian subcontinent from 1526 to 1857, the biryani was introduced by the Mughals and became a part of the cuisine of the Indian subcontinent.
The word "biryani" comes from the Persian word "birinj" (which means "fried")
Biryani is an one pot meal that is popular in many cultures, and the dish is thought to have originated from the Indian subcontinent. The word "Biryani" means fried rice.
The most common biryani has layers of seasoned rice with meat or vegetables, and it is often served with raita and papadum on the side. It is cooked in a pot with a tight-fitting lid either on the stove top or in an oven. The pot has water added to it before the rice is added and cooked until the rice is tender. You can use chicken breasts or chicken thighs for this dish.
Depressed? Have some Chicken Biryani. Sad or feeling under the weather?? Have some Biryani. Happy and excited??? Order a huge bucket of Biryani.
Biryani is the classic food! Some segments would wholeheartedly agree with me. Hence, it is no surprise that the Biryani, especially the Chicken Biryani or Mutton Biryani, seems to be the most appropriate prescription for any occasion of our life.
Make a whole pot of Biryani at home and it is guaranteed to be enjoyed as breakfast, lunch and dinner by loyalists. Why, some even go to the whole next level where it is stored overnight, reheated the next morning and eaten with the same gusto as the previous day.
No occasion, be it a grand wedding or a simple birthday bash, is complete without the quintessential Chicken Biryani. Such is the popularity of this simple, spicy and fragrant mixed rice that it is served in many food outlets in buckets instead of small service bowls, making it one of the most popularly ordered restaurant dishes.
India being the culinary genius it is, it has developed many flavourful variants of Chicken Biriyani across regions. In our recipe here, we bring you a flavourful and aromatic dish, that is easy to follow and can be made by a novice cook as well. If you like this dish, check out our Biryani section for easy and flavourful recipes.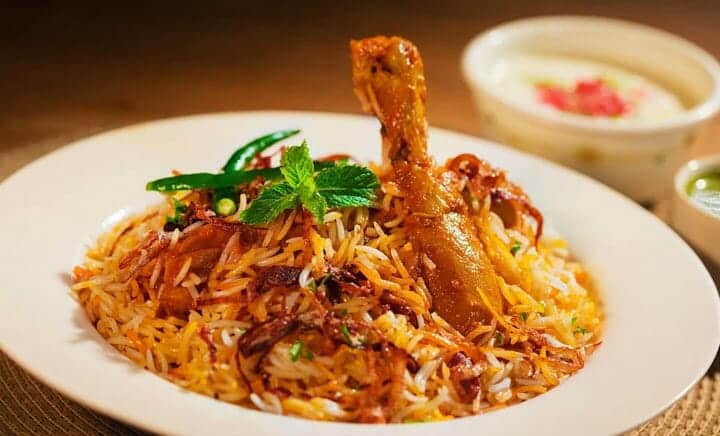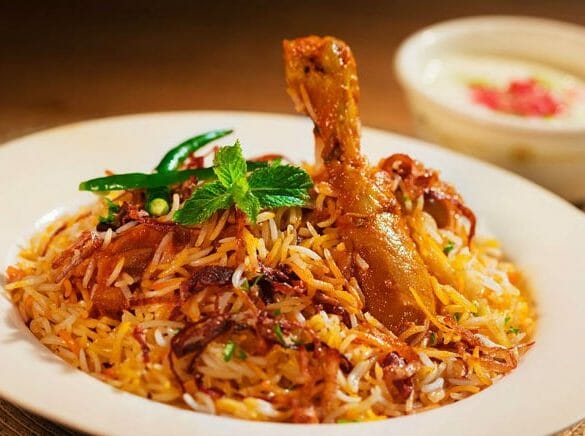 Chicken Biryani

Recipe

A traditional Indian dish, biryani is made with lightly spiced rice and meat or vegetables. This recipe for chicken biryani is the perfect meal for busy midweek days.
Ingredients for
Chicken Biryani
750

g

Chicken

chopped to bite sized pieces

3

Onions

finely sliced

1

tbsp

Cashewnut Paste

4

Tomatoes

large, pureed

2

cup

Basmati Rice

soaked for 10 minutes

1

tbsp

Ghee

20g

2

tsp

Ginger Garlic Paste

1

tbsp

Poppy Seeds

coarsely powdered

10

Saffron Strands

soaked in 2 tbsp milk

6

tbsp

Oil

60-65 ml

1

cup

Fried Onions – 1 cup

to garnish

Salt

as per taste
For the marinade:
2

cup

Curd

beaten

1

tbsp

Coriander Leaves

chopped

2

tsp

Red Chilli Powder

2

tsp

Garam Masala Powder

1/2

tsp

Turmeric Powder

1 1/2

tsp

Salt
How to make
Chicken Biryani
Mix all the marinade ingredients and rub all over the chicken pieces.

Keep aside for 30 minutes. To get the best flavours, leave it to marinate overnight.

Heat oil in a pan over medium flame.

Add the ginger garlic paste and onions.

Saute well for 3 to 4 minutes or until onions turn light golden brown.

Add the cashewnut paste, tomato puree and poppy seeds.

Stir well and simmer for a minute or two.

Add the marinated chicken pieces and cover the pan with a lid.

Reduce flame to low and cook till the chicken is tender. Turn off flame once it is fully cooked.

Drain the rice and rinse well.

Pressure cook till 3/4ths done and remove. Alternatively, cook it in a deep vessel using the boiling method and drain excess water after it's cooked.

Place a chapati or dosa tawa on a low flame.

Put a large, deep pan over this to cook the biryani dum-style.

Spread a layer of rice at the bottom of the pan followed by a layer of the chicken gravy.

Repeat until all the rice and chicken have been used up, finishing up with a layer of rice on top.

Sprinkle the saffron strands with the milk and ghee on top.

Cover the pan with a tight fitting lid* and cook for 30-45 minutes. Ensure there is no escaping of steam.

Remove when the rice is cooked and chicken pieces are tender.

Gently fluff up the rice using a fork.

Garnish with the fried onions.

Serve hot with onion raita.
Recipe Video
Notes
If you don't have a tight fitting lid, place a flat plate to cover the vessel and keep a heavy stone on top of the lid. Ensure no steam escapes.