A delicious, quick and easy to make Chinese style Chicken Fried Noodles. Great for any occasion – lunch, dinner, brunch or party.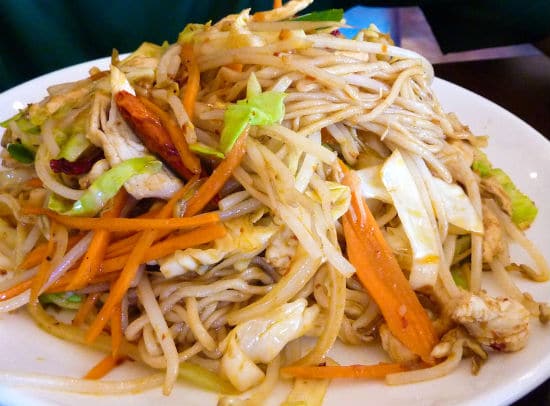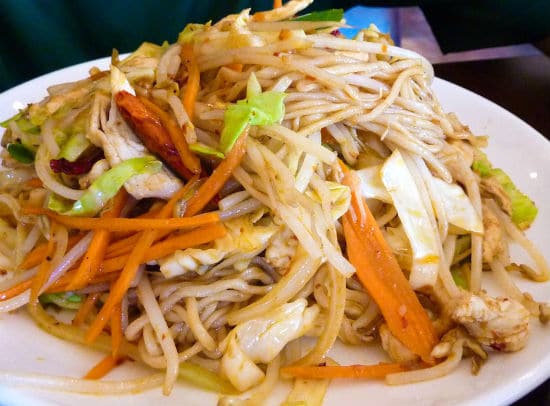 Ingredients:
Chicken Breasts – 250 gms, finely sliced
Egg Noodles – 200 gms
Sesame Oil – 1 tblsp
Vegetable Oil – 1 tblsp
Garlic – 2 cloves, small, finely chopped
Onion – 1, small, finely sliced
Light Soy Sauce – 3 tblsp
Red Chilli Sauce – 2 tblsp
Sweet Soy Sauce – 1 tblsp
Lettuce – handful, chopped
Tofu (or Paneer) – 2 tblsp, chopped into cubes
Beansprouts – 1/4 cup
Sea Salt as per taste
Optional:
Red Capsicum – 2 tblsp, finely sliced
Carrot – 2 tblsp, cut into thin sticks
Method:
1. Heat a large pot of salted water over medium flame.
2. Bring to a boil.
3. Add the noodles and cook for 10 minutes.
4. Drain well and rinse under cold water.
5. Drain again and transfer to a bowl.
6. Add the sesame oil and toss well.
7. Heat vegetable oil in a pan over medium flame.
8. Saute the onions and garlic for a minute or until onions turn golden brown.
9. Add the chicken pieces and stir well.
10. Add the red chilli sauce and 3/4 tblsp of light soy sauce.
11. Stir well and cook for a minute.
12. Add the remaining light soy sauce, noodles and sweet soy sauce.
13. Mix well and cook for a minute or two.
14. Fry the tofu (or paneer) cubes into little oil until golden brown.
15. Add to the pan along with lettuce, capsicum, carrots and beansprouts.
16. Toss gently and cook for a minute.
17. Remove from flame and serve at once.