A delicious and mildly spicy homemade butternut squash soup perfect for those chilly mornings. Butternut Squash is rich in nutrients especially Vitamin A and fibre.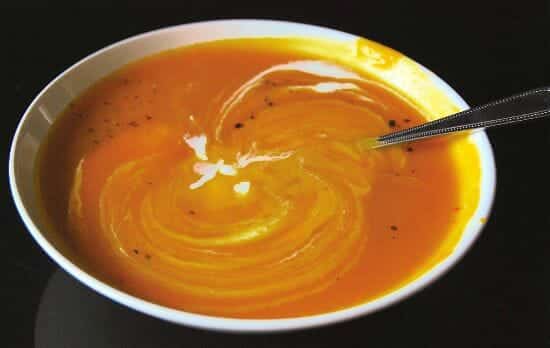 Ingredients:
Butternut Squash – 350 to 400 gms, peeled, chopped
Onion – 1, small, chopped
Garlic Paste – 1/2 tsp
Red Chillies – 1, finely chopped
Cumin Powder – 1/2 tsp
Vegetable Stock – 2 cups
Bay Leaf – 1, small
Sour Cream – 2 tblsp
Salt as per taste
Black Pepper Powder as per taste
Coriander Leaves – handful, chopped
Sunflower Oil – 1 to 2 tsp
Method:
1. Heat oil in a pan over medium flame.
2. Add the onions and chopped butternut squash.
3. Saute for 3 to 4 minutes.
4. Add the red chillies and garlic paste.
5. Stir and cook for a minute.
6. Add the cumin powder and cook for another 30 to 60 seconds.
7. Add the vegetable stock, bay leaf and bring to a gentle boil.
8. Cover the pan with a lid and simmer over low flame for 10 minutes or until the squash is soft.
9. Discard the bay leaf and puree the mixture until smooth.
10. Add half of the sour cream.
11. Sprinkle salt and pepper powder.
12. Pour into individual serving bowls.
13. Garnish with coriander leaves and a swirl of sour cream.
14. Serve warm.