This homemade cream of mushroom soup is a great way to start a meal. Delicious and easy to make, it is also healthy and tasty.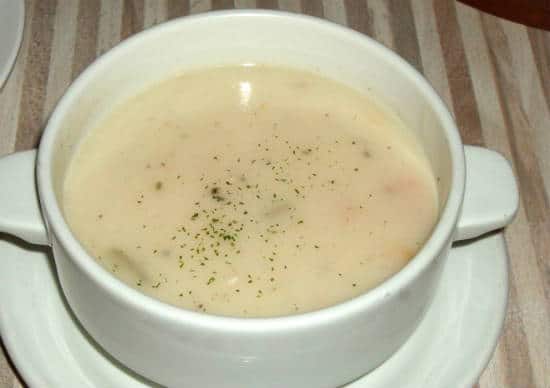 Ingredients:
Button Mushrooms – 450 gms, sliced
Onion – 1, chopped
Butter – 2 tblsp
Corn Flour – 2 to 3 tblsp
Garlic – 1 tsp, finely chopped
Thyme – 1/2 tsp
Thick Cream – 1/2 cup
Vegetable or Chicken Stock – 2 1/2 cups
Black Pepper Powder as per taste
Salt as per taste
Coriander Leaves – little, finely chopped
Method:
1. Heat butter in a large, deep pan over medium flame.
2. Add the mushrooms and salt.
3. Stir well and cook until the mushrooms turn golden brown.
4. Add the onions and cook for a minute or two.
5. Add the garlic and cook for a minute more.
6. Add the corn flour and stir well.
7. Pour the stock, thyme and stir.
8. Simmer until the soup starts to bubble and reduce flame to low.
9. Cook for 30 to 60 minutes.
10. Transfer to a blender or using a hand blender, puree the soup until smooth or slightly coarse, in batches.
11. Add the cream and stir.
12. Simmer for a few minutes and adjust salt and pepper.
13. Pour into serving bowls, garnish with coriander leaves and serve at once.