This delicious coriander and lime grilled chicken is an ideal summer barbecue dish. Succulent chicken breasts marinated in a coriander, lime and yogurt marinade.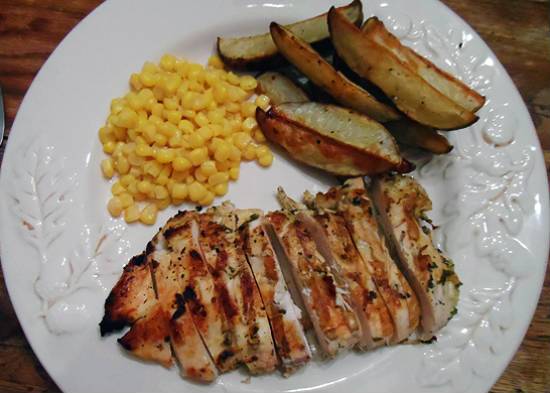 Ingredients:
Chicken Breasts – 350 gms, boneless, skinless, sliced
Coriander Leaves – 1/4 cup
Plain Yogurt – 1/4 cup
Extra-Virgin Olive Oil – 1/2 tblsp
Coriander Powder – 3/4 tsp
Lime Juice – 2 tsp
Garlic Paste – 1/4 tsp, minced
Salt as per taste
Pepper Powder as per taste
Method:
1. Combine the coriander leaves, yogurt, olive oil, coriander powder, lime juice and garlic paste in a bowl.
2. Add salt and pepper powder.
3. Grind until smooth.
4. Place the chicken pieces in a zip lock bag.
5. Add the marinade and seal the bag.
6. Gently toss and place the bag in the fridge for 2 to 4 hours.
7. From time to time, gently shake the bag to coat the chicken pieces.
8. Remove the chicken pieces from the bag and keep them on a plate for 10 minutes.
9. Heat a grill pan over medium flame.
10. If required, add a little olive oil to the pan.
11. Place the chicken pieces and grill for 5 to 8 minutes or until golden brown and cooked through.
12. Remove and cool for 2 to 3 minutes.
13. Serve with lime wedges and raita/dipping sauce of choice.