A classic and traditional Indian chicken dish that is perfect for any parties, picnic or a sunday brunch.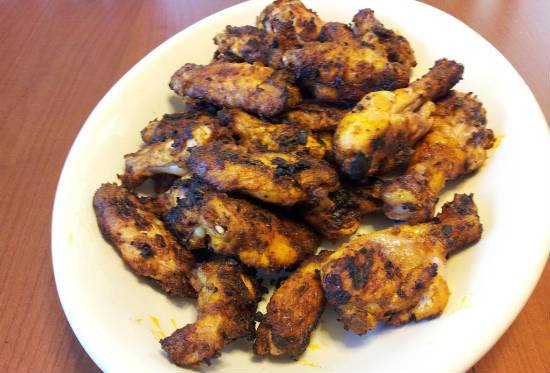 Ingredients:
Chicken Wing Drumettes – 20 to 25
For the Masala:
Tomato Sauce – 1/2 cup (readymade)
Plain Yogurt – 1/3 cup + 1 tblsp
Coriander Powder – 2 tsp
Garlic – 2 cloves, chopped
Ginger – 1 tsp, chopped
Cumin Seeds – 1/2 tsp
Garam Masala Powder – 1/2 tsp
Red Chilli Powder – 3/4 tsp
Turmeric Powder – a pinch
Onion – 1, small, cut into wedges
Clove – 1
Method:
1. To make the masala, combine all the masala ingredients in a blender and blend well to a smooth paste.
2. Keep the chicken wings in a bowl and pour the masala over.
3. Mix well until evenly coated.
4. Cover with cling film and place it in the fridge for 8 to 12 hours or for a day.
5. Remove and drain the chicken, discarding the marinade.
6. Place them on a lightly greased baking tray and place it in a preheated oven at 200C/400F.
7. Bake for 30 to 40 minutes, turning them once or twice to evenly cook.
8. Remove the chicken from the oven and transfer to a large grilled pan over high flame.
9. Cook for 4 to 5 minutes, turning them frequently until it starts to blacken.
10. If the chicken is still pink, then cook for some more time.
11. Remove and serve with raita.