Tikadia is a crispy roti stuffed with a onion and tomato mixture. Serve with a side dish of choice.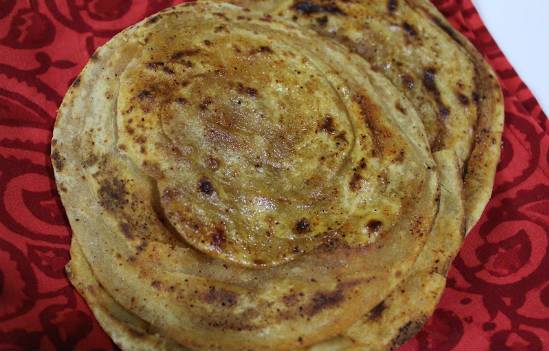 Ingredients:
Whole Wheat Flour – 3 cups
Onions – 2, chopped
Tomatoes – 2, medium, chopped
Cumin Seeds – 2 tsp
Red Chilli Powder – 1 tsp
Coriander Leaves – handful, chopped
Ghee as required
Salt as per taste
Method:
1. Combine the flour, salt and 1/2 cup of ghee in a bowl.
2. Pour 2 to 2 1/4 cups of water and knead to a soft, pliable dough.
3. Mix the onions, tomatoes, coriander leaves, cumin seeds and red chilli powder in a separate bowl.
4. Make medium balls of the dough and roll them into medium circles.
5. Apply a little ghee and spread well.
6. Add a portion of the onion and tomato mixture.
7. Sprinkle a little salt and fold well.
8. Roll this into a thick round.
9. Heat a nonstick tawa over medium flame.
10. Cook the prepared tikadias on both sides for 3 to 4 minutes or until golden brown and crispy
11. Before serving, apply a little ghee and serve warm.