This easy to make Barbeque Chicken Wings with a sticky sauce is perfect for the summer grill. Serve as a snack or as part of a meal. And this need not be deep-fried, so you do not have to worry about the oily bits.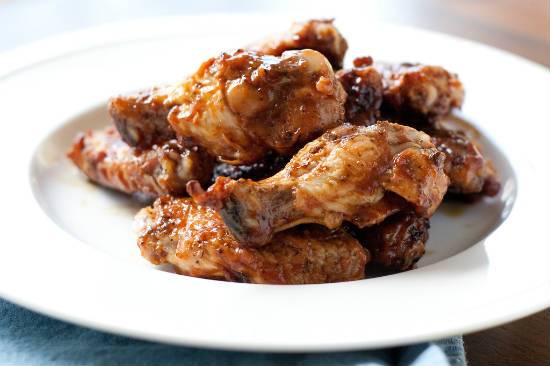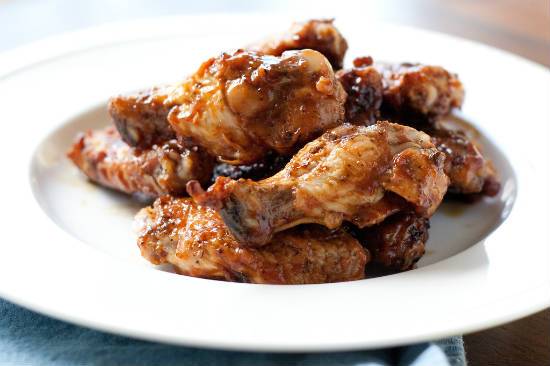 Ingredients:
Chicken Wings and Drumsticks – 500 gms
Tomato Ketchup – 1/2 to 3/4 cup (adjust as per taste)
Vinegar – 2 tblsp
Soy Sauce – 2 tblsp
Garam Masala Powder – 1 tblsp
Curry Powder – 1/2 tsp
Honey – 2 tsp
Garlic – 1 clove, minced
Thyme – little
Salt as per taste
Black Pepper Powder as per taste
Oil as required
Method:
1. Mix the tomato ketchup, vinegar, soy sauce, garam masala powder, curry powder and honey in a bowl.
2. Add the garlic, thyme, salt and pepper powder.
3. Add a drizzle of oil and mix well.
4. Pour this over the chicken wings and mix well until evenly coated.
5. Preheat an oven to 400F/200C.
6. Transfer the chicken pieces to a roasting pan and place it in the oven for 20 to 30 minutes.
7. Check if the chicken is cooked by inserting a knife. If the pieces are cooked, then there should not be any pinkness in the middle.
8. When the chicken is cooked and has a sticky coating, remove from the flame.
9. Transfer to a serving dish.
10. Serve as it is or as an accompaniment to a meal or with a salad.