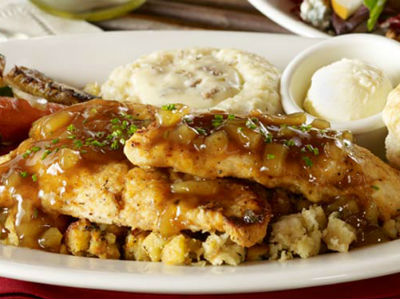 Ingredients:
Chicken – 450 gms
Butter – 25 gms
Lemon – 1, small, halved
Whiskey – 1 1/2 tblsp
Heavy Cream – 1/4 cup
Salt as per taste
Black Pepper Powder as per taste
Method:
1. Rub the butter all over the chicken.
2. Squeeze the lemon juice over it and place the lemon halves inside the chicken's cavity.
3. Generously sprinkle salt and black pepper powder all over the chicken, inside and out.
4. Place the chicken in a roasting pan.
5. Roast in a preheated oven at 400F until golden brown and crisp, approx. 1 hour.
6. Remove and place it on a warm serving plate. Cut the chicken into slices or chunks.
7. Discard any visible fat from the roasting pan and place the pan over a medium flame.
8. Add the whiskey into the pan and after 30 seconds, tilt the pan toward the gas flame to light the warmed whiskey.
9. Alternatively you can set a match to the edge of the pan.
10. If desired, cover the pan with a tight fitting lid until the flame burns out (about 10 seconds).
11. Add the cream and heat for 30 seconds.
12. Pour this sauce over the chicken.
13. Serve at once.
image credit: nobainnogain.blogspot.com