These delicious fried chicken wings in a sweet and sour sauce make a great appetizer or party snack.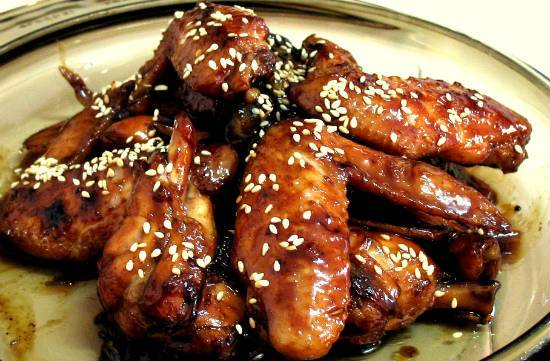 Ingredients:
Chicken Wings – 500 gms, wing tips discarded
Chicken Stock – 2 tblsp
White Vinegar – 3 tsp
Sugar – 3 tsp
Honey – 1 tsp (optional)
Soy Sauce – 3 tsp
Red Chilli Powder – 1 tsp
Corn Flour – 2 tsp
Onions – 1/2 tsp, finely chopped or grated
Sesame Seeds – little
Oil for frying
Method:
1. Mix the chicken stock, vinegar, soy sauce, sugar, red chilli powder, corn flour and onions in a bowl.
2. Heat oil in a deep frying pan over medium flame.
3. Fry the chicken wings for 10 minutes or until golden brown.
4. Remove and drain excess oil.
5. Heat the sauce in a nonstick pan for a minute and pour this over the fried chicken wings.
6. Mix well until evenly coated.
7. Sprinkle sesame seeds on top.
8. Serve.