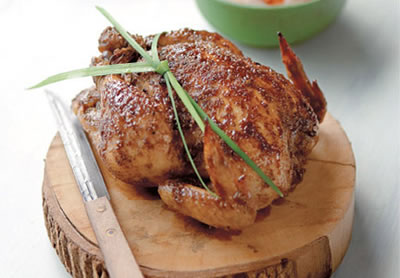 Ingredients:
Chicken – 750 gms, cut into 8 to 10 pieces
Coriander Leaves – few, chopped, to garnish
Oil as required
For the marinade:
Small Onions – 2, sliced
Ginger – 1 one inch piece, peeled, sliced
Garlic – 2 cloves
Water – 1/4 cup
Soy Sauce – 1/8 cup
Rice Wine – 1 tblsp
Five Spice Powder – 1 tsp
Sugar – 2 tblsp
Black Pepper Powder – 1/4 tsp
Method:
1. Combine the small onions, ginger, garlic and sugar in a bowl.
2. Blend to a smooth paste and transfer to a pan.
3. Place the pan over medium flame and add all the marinade ingredients.
4. Mix well and bring to a boil.
5. Simmer till the sugar has dissolved.
6. Remove and transfer to a bowl.
7. Add the chicken pieces and ensure each piece is well coated.
8. Cover and keep it in the fridge for 2 hours.
9. From time to time, baste the chicken pieces with the marinade.
10. Drain the marinade and steam cook the chicken for 30 minutes.
11. Remove and keep aside for another 30 minutes or till the chicken has dried completely.
12. Heat oil in a pan over high flame.
13. Deep-fry the chicken until golden brown and crispy.
14. Remove and drain excess oil.
15. Garnish with coriander leaves.
16. Serve hot.