These simple, delicious chicken wings are marinated and then fried until crispy. Best served as an appetizer or as a party snack.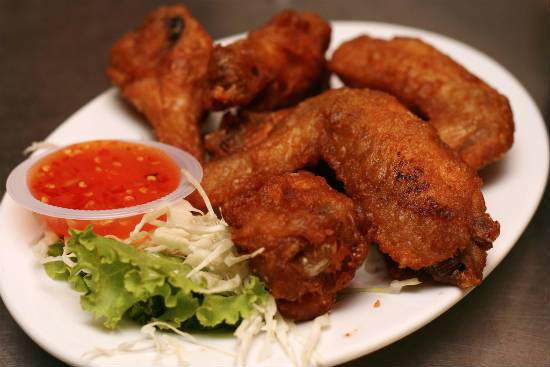 Ingredients:
Chicken Wings – 250 gms (drumettes or you can also use the middle section if preferred)
Maida – 2 tbllsp
Corn Flour – 2 tblsp
Oil for deep frying
For the marinade:
Ginger Garlic Paste – 3 tsp
Soy Sauce – 3 tsp
Oyster Sauce – 1 1/2 tsp
Black Pepper Powder as per taste
Salt as per taste
Method:
1. Wash and pat dry the chicken wings.
2. Mix the marinade ingredients in a large bowl.
3. Add the chicken wings and mix well until evenly combined.
4. Cover and keep it aside for 8 hours or overnight preferably.
5. Mix the corn flour and maida in a flat tray.
6. Sprinkle this over the marinated chicken wings and shake off any excess.
7. Heat oil in a deep frying pan over medium flame.
8. Deep fry the chicken wings until light golden brown.
9. Remove and drain excess oil.
10. Serve at once with sweet chilli sauce or with a dipping sauce of choice.