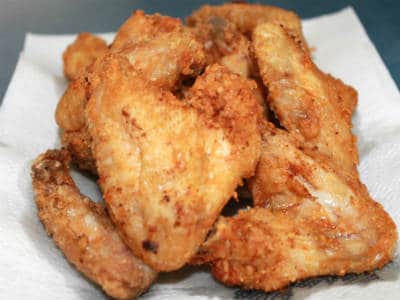 Ingredients:
Chicken Wings – 10
Ginger – 1 inch piece, finely chopped
Garlic – 2 cloves, finely chopped
Green Chillies – 2, finely chopped
Light Soy Sauce – 2 tblsp
Eggs – 2, beaten
Cornflour – 1/4 cup
Oil for deep frying
Salt as per taste
Method:
1. Mix the ginger, garlic, green chillies and soy sauce in a large bowl.
2. Add a pinch of salt and mix well.
3. Add the wings and rub well until evenly coated.
4. Cover the pan with a lid and keep it in the fridge for 4 hours.
5. Heat oil in a deep frying pan over medium flame.
6. Remove the bowl from the fridge.
7. Break the eggs into the bowl.
8. Add the cornflour and blend well until sticky and dry.
9. Add the chicken wings, one by one, to the hot oil and fry until golden.
10. Remove and drain excess oil.
11. Serve hot with mint chutney and chilli sauce.