Chicken Marsala is a classic and popular Italian dish made with chicken breasts, dry Marsala wine and mushrooms. Easy and delicious, it is perfect for dinner or any weekend parties.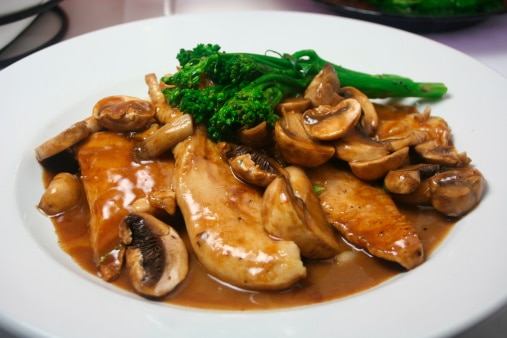 Ingredients:
Chicken Breast Fillets – 2, skinless, boneless
Chicken Stock – 1/2 cup
Dry Marsala Wine – 1/4 cup
Dried Thyme – 1/4 tsp, crushed
Plain Flour (Maida) – 2 tblsp
Butter – 1 1/2 to 2 tblsp
Olive Oil – 1/2 tbblsp
Button Mushrooms – 1 cup, chopped
Sambar Onions (Shallots) – 1 tblsp, finely chopped
Coriander Leaves – handful, chopped
Salt as per taste
Black Pepper Powder as per taste
Method:
1. Mix the maida, thyme, salt and pepper powder in a bowl.
2. Pound the chicken fillets using a rolling pin to about 1/4 inch thick.
3. Add the chicken to the bowl and coat evenly with the flour.
4. Shake off any excess and keep aside.
5. Mix the chicken broth, dry marsala and any remaining flour mixture.
6. Heat 1/2 tblsp butter and olive oil in a pan.
7. Cook the chicken for 5 minutes or until no longer pink.
8. Remove and keep aside in a warm place.
9. Add mushrooms and onions to the pan.
10. Cook for 5 to 6 minutes or until tender.
11. Remove the pan from the flame.
12. Add the chicken broth and marsala mixture.
13. Return the pan to heat and cook until slightly thickened and bubbly.
14. Add the remaining butter and stir well.
15. Transfer the chicken to a serving plate.
16. Spoon over the mushroom mixture.
17. Garnish with coriander leaves.
18. Serve over pasta or noodles.