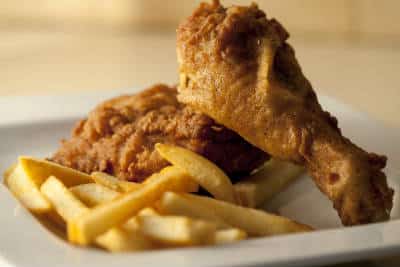 Ingredients:
Chicken Drumsticks – 250 gms
Plain Yogurt – 1/2 cup
Maida (Plain Flour) – 1/2 cup
Oil for deep frying
For the Seasoning:
Black Pepper Powder – 1 tsp
White Pepper Powder – 1 tsp
Garlic Powder – 1 tsp
Paprika (or Red Chilli Flakes) – 1 1/2 tsp
Onion Powder – 1 tsp
Mixed Herbs (thyme, oregano, sage, marjoram) – 1 1/2 to 2 tsp
Ginger – 1/2 tsp
Sugar – 1/2 tsp
Method:
1. Combine all the seasoning ingredients in a bowl.
2. Mix 2 tsp of the seasoning with yogurt in a large plastic container.
3. Add the chicken pieces and mix well.
4. Cover with a lid and marinate in the fridge for 8 hours or overnight.
5. Mix 1/2 tsp of the seasoning with maida on a flat plate.
6. Remove the chicken and drain all excess marinade.
7. Dredge the chicken in the flour.
8. Heat oil in a deep frying pan over medium flame.
9. Add the chicken to the hot oil and deep fry until crisp and golden.
10. Remove and drain excess oil.
11. Serve at once with fries and dipping sauce of choice.
Tip: Adjust the quantities of the seasoning as required.