This delicious and easy to make Malaysian style Chicken Satay Skewers is a must have for any party or gathering. Serve with the peanut sauce or with a dipping sauce of choice.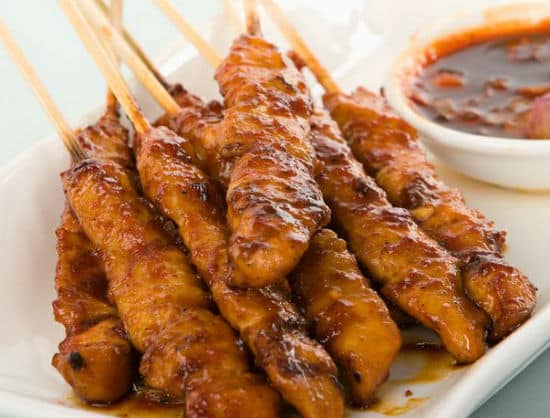 Ingredients:
Chicken Thighs – 500 gms, boneless
Lemongrass – 2 stalks, bottom half only
Turmeric Powder – 4 to 5 tsp
Cumin Powder – 1 tsp
Sea Salt – 1 tsp
Sugar – 1 1/2 tblsp
Bamboo Skewers – few, soaked in water for 30 minutes
Onion – 1, sliced
Cucumber – 1, sliced or cut into wedges
Lemon Wedges
For brushing:
Oil – 1/4 cup
Sugar – 1/2 tblsp
Coconut Milk – 2 tblsp
For the Peanut Sauce:
Peanut Butter – 1/4 cup
Soya Sauce – 3 tsp
Chicken Stock – 5 to 6 tsp
Method:
1. Cut the chicken into small strips.
2. Grind the lemongrass with little water until smooth.
3. Transfer to a large bowl.
4. Add the chicken strips, turmeric powder, cumin powder and sugar.
5. Mix well and keep aside for 60 to 75 minutes or overnight in the fridge.
6. Remove from the fridge and skewer the chicken pieces.
7. Mix the oil, sugar and coconut milk in a bowl.
8. Heat a grill pan over medium flame.
9. Place the skewers and lightly brush them with the oil from time to time.
10. Turn the skewers to ensure the chicken is cooked evenly.
11. When the chicken is brown and slightly charred, remove from flame.
12. Garnish with the chopped cucumbers and onions.
13. Mix all the sauce ingredients in a bowl until smooth.
14. Serve with the sauce and lemon wedges.
image via