Quick and easy to make, these finger licking sticky chicken wings are an ideal appetizer snack for any occasion.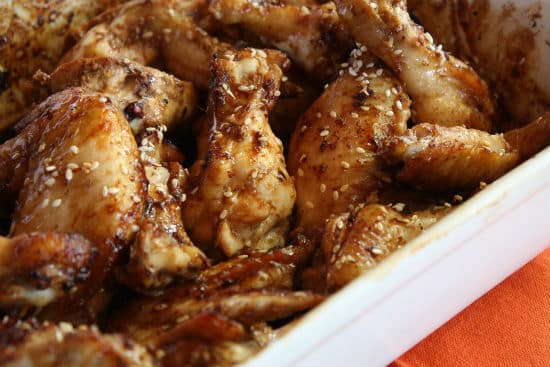 Ingredients:
Chicken Wings – 12 to 13
Garlic – 1 clove, crushed
Ginger – 1 tblsp, grated
Sea Salt as per taste
Black Pepper Powder as per taste
Coriander Leaves – few, chopped
Lime Wedges for serving
White Sesame Seeds – little
Spring Onions – 2, finely chopped (optional)
For the marinade:
Sweet Chilli Sauce – 1/2 cup
Soya Sauce – 2 tblsp
Barbecue Sauce – 1/2 cup
Method:
1. Rub the garlic and singer all over the chicken wings.
2. Sprinkle some salt and pepper powder.
3. Keep aside.
4. Mix all the marinade ingredients in a bowl.
5. Pour this over the chicken wings and mix until fully coated.
6. After 5 minutes, transfer this to a greased roasting tray.
7. Place the tray into a preheated oven at 200C and cook for 15 minutes or until the chicken wings are golden and coooked through.
8. Garnish with coriander leaves, spring onions and white sesame seeds.
9. Serve with lime wedges.