Cashew Pista Roll is an exquisite Indian dessert perfect for celebrations or as a sweet gift. Combining cashews, pistachios, and a hint of rose essence creates a delightful treat.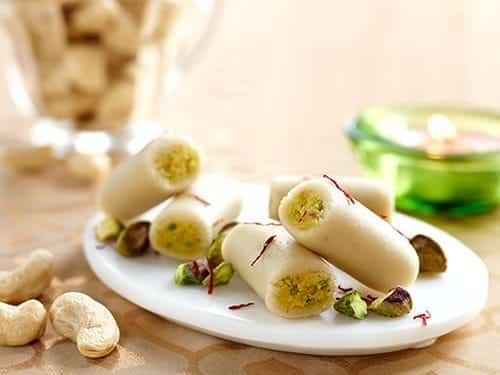 Cashew Pista Roll is a classic Indian sweet with a harmonious blend of creamy cashews and crunchy pistachios. It's a delightful treat that's often prepared during special occasions and festivals in India. The nutty richness of cashews, the vibrant green hue of pistachios, and a touch of rose essence create a sweet that's not just visually appealing but a joy to your taste buds.
As a delightful mithai (sweet) for celebrations, the Cashew Pista Roll is often presented as a gift during festive seasons. It's a symbol of spreading happiness and sweetness among loved ones. This recipe offers you the opportunity to make this cherished sweet at home, and once you taste it, you'll understand why it's so beloved.
The process of making Cashew Pista rolls is a labour of love. It begins with roasting cashews until they release their natural oils and become fragrant. The nuts are then ground into a fine powder and mixed with rose essence. In parallel, a sugar syrup is prepared and combined with the cashew mixture. This concoction is kneaded into a soft, pliable dough and rolled into a thin sheet.
Pistachios are dry roasted and powdered, with a bit of green food colouring and powdered sugar. This pistachio mixture is generously sprinkled over the cashew dough, adding colour and flavour. The entire sheet is then tightly rolled up like a mat, creating the iconic swirl of cashews and pistachios.
Once rolled, it's adorned with a delicate silver warq, and then sliced into bite-sized pieces, ready to be shared with family and friends during festivities. The result is a sweet that not only looks exquisite but has a flavour to match.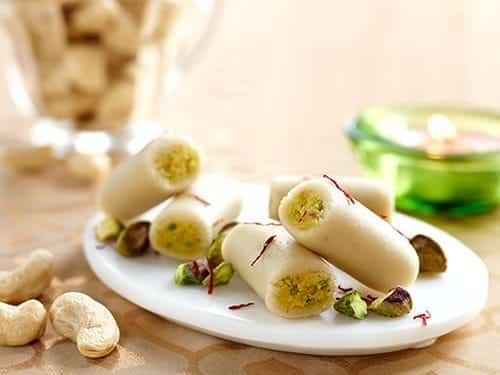 Cashew Pista Roll
Cashew Pista Roll is an exquisite Indian dessert perfect for celebrations or as a sweet gift. Combining cashews, pistachios, and a hint of rose essence creates a delightful treat.
Ingredients
250

gms

Cashewnuts

3/4

cup

Sugar

A few drops of Rose Essence

50

gms

Pista (Pistachios)

A little Green Food Coloring

1

tbsp

Powdered Sugar

Silver Warq (Edible Silver Leaves for decoration)
Instructions
In a hot kadai, dry roast the cashew nuts over moderate flame. Be careful not to overcook and discolour the nuts.

Grind the roasted cashews into a fine powder using a mixer or food processor.

Transfer the cashew powder to a large bowl, add a few drops of rose essence, and mix well.

In a separate pan, heat sugar with just enough water until it reaches one-string consistency (about 115°C or 238°F).

Remove the sugar syrup from the heat.

Pour the sugar syrup gradually into the cashew nut powder, mixing thoroughly until the mixture thickens and comes together.

While the mixture is still warm, knead it well.

Apply a bit of ghee (clarified butter) to two thick plastic sheets.

Transfer the cashew dough onto one plastic sheet and cover it with another sheet.

Flatten the dough and roll it into a thin, rectangular sheet, resembling a chapathi.

In a separate pan, dry roast the pistachios until fragrant, then grind them into a fine powder. Mix in a little green food colouring and powdered sugar.

After rolling the cashew dough, sprinkle the powdered pasta mixture evenly over the surface.

Roll up the dough tightly from one end, creating a log shape like a mat.

Decorate the roll with silver warm, gently pressing it onto the surface.

Allow the roll to cool completely, then cut it into 2-inch pieces.

Serve and savour the delightful Cashew Pista Roll!
Frequently Asked Questions (FAQ):
What are some suitable pairings for the Cashew Pista Roll?
Cashew Pista Roll is a delectable Indian sweet that pairs perfectly with hot masala chai. It's also a great addition to your dessert platter during festivals and celebrations.
Can I store the Cashew Pista Roll for a longer period?
Yes, Cashew Pista Roll can be stored in an airtight container for several weeks. Ensure it's kept in a cool, dry place to maintain its freshness.
Can I make variations with different nuts or flavours?
Absolutely! You can experiment with other nuts like almonds or walnuts. You can also explore different essences or flavours to personalize this sweet.
Is Cashew Pista Roll a gluten-free dessert?
Yes, Cashew Pista Roll is naturally gluten-free. Just be sure to check that your ingredients are free from any cross-contamination with gluten.
What's the significance of decorating with silver warq in Indian sweets?
Silver warq is a traditional and decorative element in Indian sweets. It's believed to add an auspicious touch to the sweet and is often used during special occasions and celebrations.
Enjoy the art of creating and savouring Cashew Pista Roll, a cherished Indian sweet that's perfect for festivities and gifting. This recipe will help you create a delightful treat that's both visually stunning and utterly delicious.