Quinoa is one of the popular health food these days. High in protein, fiber, antioxidants and gluten-free, it is a healthy substitute to rice. Idli is a popular and staple South Indian breakfast dish. This variation made with quinoa is healthy, tasty and delicious.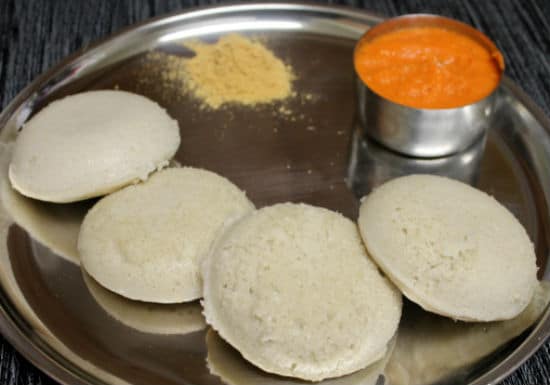 Ingredients:
Quinoa – 1 1/2 cups
Idli Rice – 1/2 cup
Urad Dal – 3/4 cup
Salt as per taste
Method:
1. Separately soak the quinoa and idli rice for 3 hours.
2. Soak the urad dal for one hour.
3. Drain the urad dal and grind to a smooth batter.
4. Drain the quinoa and rice.
5. Combine them together and grind to a smooth batter.
6. Combine the urad dal batter with the quinoa and rice batter.
7. Add salt and allow it to ferment for 8 to 10 hours.
8. After 8 to 10 hours, stir well and pour it into greased idli plates.
9. Cook the idlis in a cooker for 15 minutes.
10. Remove and serve hot with sambar and chutney of choice.