Foxtail Millet Coconut Milk Pulao is an easy to make recipe is a powerhouse of minerals and fibre. Otherwise also know as Thinai Arisi in Tamil or Navane in Kannada and Korralu in Telugu, Foxtail millet is the 2nd largest millet crop grown in our country.
They can easily be substituted for rice by making slight variation in the style of cooking. Just like any other millet, foxtail millet contains much more nutrition than any other grain. They are a source of complex carbs, which in simple terms mean, they are high in fibre and are ideal for health. Higher protein and fibre content indicate a higher satiety power, which means that one wouldn't feel hungry too soon and will tend to eat only till they are full.  Combined with coconut milk, this Foxtail Millet Coconut Milk pulao makes a wholesome, nutritious and tasty one-pot meal. They make an excellent meal for diabetics and weight watchers.
Try our easy to make, one pot meal of Foxtail Millet Coconut Milk Pulao and leave your thoughts in the comments sections below. Until the next recipe, Ciao!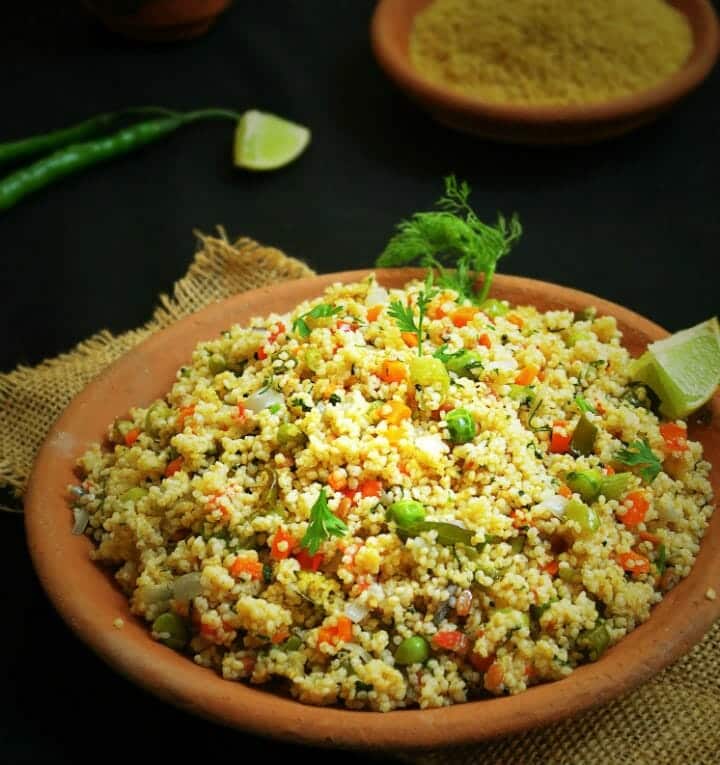 Ingredients:
Foxtail Millet – 1 cup
Coconut Milk – 1/2 cup
Water – 1 cup
Onion – 1. finely chopped
Green Peas – 1/2 cup
Ginger Garlic Paste – 1 tsp
Green Chillies – 4, Chopped
Oil /Ghee – as required
Salt to Taste
Tempering:
Cloves – 1/4 tsp
Fennel Seeds – 1/4 tsp
Bay Leaf – 1
Cardamom – 1
Method:
Wash and soak the millets for 10 minutes.
To a pressure cooker, add oil/ ghee in a medium flame.
Add the ingredients given to temper one by one.
Add green chillies, onion and fry till golden brown.
Add the ginger garlic paste and mix well.
Add the green peas and cook for a minute.
Add the coconut milk, water, salt and soaked millet.
Mix well and cook until 1 whistle.
Serve hot with any raita.