Laddoos are a popular sweet across the sub-continent during any special occasions or festivals. These laddus made with oats and nuts are a healthy variation and is easy to make. Great for kids and adults. Perfect as a snack or as a dessert.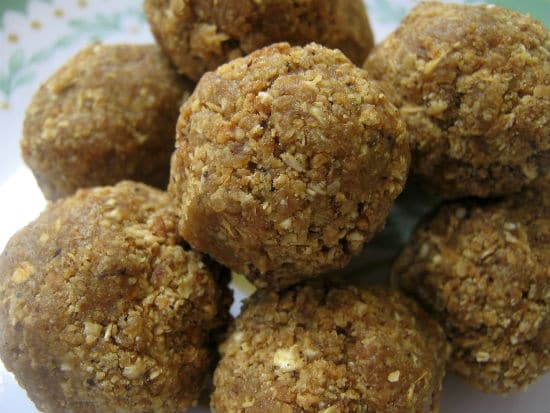 Ingredients:
Oats – 2 cups
Jaggery – 1/2 to 3/4 cup, powdered
Cashew Nuts – 20 to 25
Raisins – 25 to 30
Almonds – 10
Cardamom Powder – 1/4 tsp
Ghee as required
Method:
1. Dry roast the oats until the raw smell disappears.
2. Remove and allow it to cool.
3. Then grind to a fine powder.
4. Dry roast the cashew nuts and almonds.
5. Cool and grind to a coarse powder.
6. Combine the ground oats, cashew nuts, almonds, jaggery, cardamom powder and mix well.
7. Heat 2 tsp of ghee and fry the raisins.
8. Add this to the oats mixture.
9. Warm a little ghee and add to the mixture.
10. Mix well and shape them into small-medium laddus.
11. Store them in an airtight container.