A delicious and healthy breakfast dish with oats and mixed vegetables.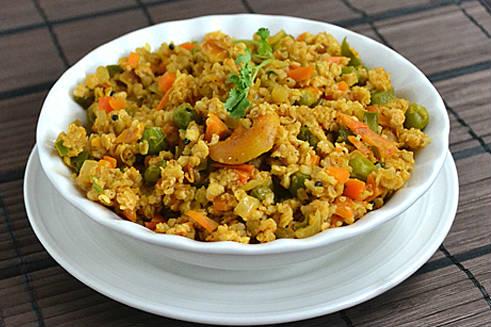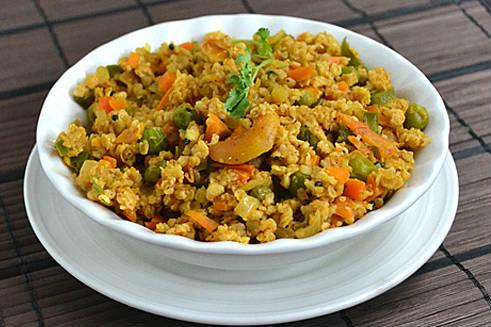 Ingredients:
Oats – 1 cup
Green Peas – 2 tblsp, shelled
Carrot – 2 tblsp, chopped
Beans – 2 tblsp, chopped
Cabbage – 2 tblsp, chopped
Onion – 1, chopped
Green Chillies – 2, chopped
Tomatoes – 2, chopped
Lemon Juice – 2 tsp
Ginger Garlic Paste – 1/2 tsp
Cloves – 1
Cinnamon – 1
Coriander Leaves – handful, chopped
Salt as per taste
Oil as required
Method:
1. Soak the oats in hot water for 5 to 10 minutes.
2. Drain well and keep aside.
3. Boil the peas, carrot and beans until tender. Drain well.
4. Heat oil in a pan.
5. Add the cloves and cinnamon. Fry for 30 seconds.
6. Add the tomatoes, green chillies, onions and cabbage.
7. Saute for two to three minutes.
8. Add the ginger garlic paste, beans, carrot and green peas.
9. Stir to mix well.
10. Add salt and stir again.
11. Squeeze the oats to remove any excess water and add to the pan.
12. Stir well and cook for a minute or until all moisture has evaporated.
13. Remove from flame.
14. Add lemon juice and stir.
15. Garnish with coriander leaves.
16. Serve.
Note: image is for illustration purposes only and not that of the actual recipe.