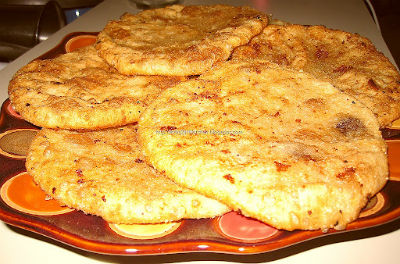 Ingredients:
Ghee – 1/2 kg
Cashewnuts – 30 to 40
Fine Semolina – 1/2 kg
Water – 1 litre
Sugar – 1/2 kg
Powdered Cardamoms – 7 to 8
Saffron – a pinch, powdered
Flour – 1/2 kg
Method:
1. Heat ghee in a pan.
2. Fry the cashewnuts lightly, remove and drain.
3. Keep aside.
4. Fry the semolina in the same pan and keep aside.
5. Boil water in a different pan.
6. Add the semolina and stir well.
7. Add sugar and stir till cooked.
8. Finally, add cashewnuts, cardamom powder and saffron.
9. Mix well. Remove from fire and cover it with a lid.
10. Knead the flour into a pliable dough with little water.
11. Smear a little oil over it and keep aside for 1 hour.
12. Knead again thoroughly.
13. Grease a banana leaf.
14. Make small thin round puris of the dough.
15. Press on the leaf to smooth out evenly.
16. Take a small lime-sized ball of the semolina mixture and put it in the centre of the puri.
17. Cover with another puri and seal the edges.
18. Flatten them again into puri shaped rounds.
19. Deep fry in hot ghee.
20. Remove and store it in an container.
21. This stays good for 10 days if stored properly.
image credit: petitchef.com
Semolina stuffed pastry