A crispy and delicious teatime/evening snack or can also be served as a starter/appetizer to any meal. Best served warm with chutney or sauce of choice.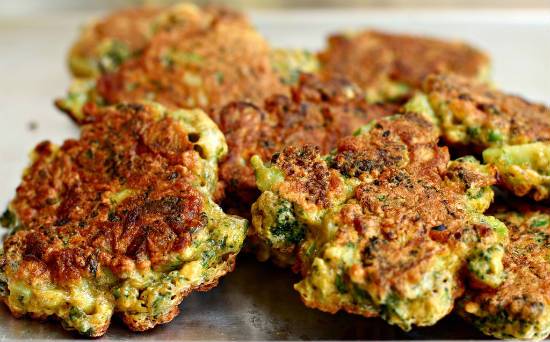 Ingredients:
Broccoli – 200 gms, finely chopped
Potatoes – 125 gms
Plain Flour (Maida) – 100 gms
Corn Flour – 1/4 cup
Butter – 2 to 3 tblsp
Ginger Garlic Paste – 2 tsp
Oil for frying
Red Chilli Flakes – 2 tsp (adjust as required)
Salt as per taste
Black Pepper Powder as per taste
Optional:
Onion – 1/2 cup, finely chopped
Method:
1. Boil, peel and mash the potatoes well.
2. Heat butter in a pan over medium flame.
3. Saute the broccolis for a minute or two.
4. Combine the mashed potatoes, corn flour, maida, broccolis, ginger garlic paste, red chilli flakes, salt and black pepper powder.
5. Mix well and shape the mixture into small/medium tikkis.
6. Heat oil in a deep frying pan.
7. Fry the prepared tikkis until golden brown.
8. Remove and drain excess oil.
9. Serve hot with chutney or sauce of choice.
Note: If using onions, then saute with broccolis at step #3.