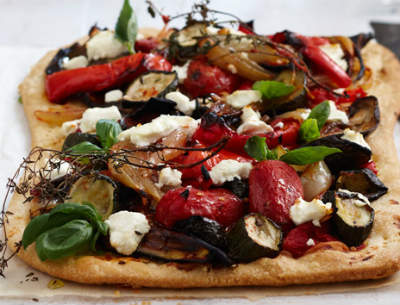 Ingredients:
Tomatoes – 200 gms, boiled, peeled
Zucchini – 1, sliced
Red Capsicum – 1, deseeded, sliced
Onion – 1, medium, sliced
Brinjal – 1, small, sliced
Garlic – 2, small cloves, sliced
Fennel Seeds – 1/2 tsp
Olive Oil – 1 tblsp
Thyme – 1 sprig
Goat Cheese – 2 tblsp, crumbled
Basil Leaves – few, chopped, for garnish
Salt as per taste
Black Pepper Powder as per taste

For the pastry:
Maida – 3/4 to 1 cup
Butter – 125 gms, unsalted
Cold Water – 2 1/2 tblsp
Method:
1. Transfer the tomatoes, zucchini, capsicum, onion and brinjal to a preheated baking tray.
2. Scatter the fennel seeds and garlic.
3. Drizzle with olive oil and sprinkle salt and pepper.
4. Place the tray in a preheated oven at 400F/200C and bake for 30 to 45 minutes or until the vegetables are lightly browned.
5. Sift the maida in a bowl and add the butter.
6. Rub until well combined and gently pour water.
7. Knead well to a dough and roll it out on a floured surface to a medium/large rectangle.
8. Fold the pastry into 3 parts and roll out again. Repeat this 2 to 3 times.
9. Then cover and keep it in the fridge for 20 to 30 minutes.
10. Roll out the pasty on a baking tray and prick all over with a fork.
11. Bake for 15 minutes or until golden brown.
12. Arrange the roasted vegetables and sprinkle thyme on top.
13. Scatter the cheese on top and bake for 10 minutes.
14. Garnish with basil and serve warm.
Image credit: womansday.ninemsn.com.au