Tzatziki is a popular Greek sauce made with yogurt and cucumbers. Often served as a dipping sauce with main courses, they are light, fresh and delicious.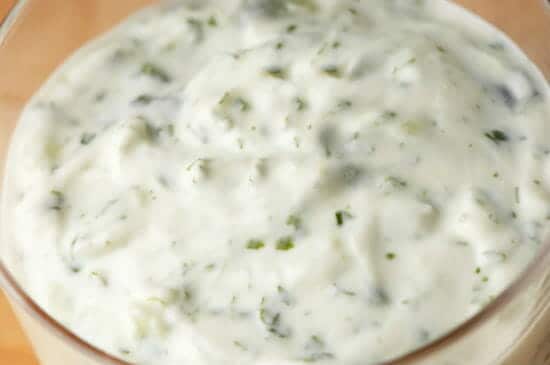 Ingredients:
Cucumber – 1
Greek Yogurt – 1/2 cup
Garlic – 1 clove
Olive Oil – 3 to 4 tsp
Lemon Juice – 1 1/2 tsp
Salt as per taste
Mint Leaves – little, very finely chopped (optional)
Black Pepper Powder (optional)
Method:
1. Finely chop the cucumber. Discard the seeds if desired.
2. Mash the garlic with a pinch of salt and 1/2 tsp olive oil.
3. Combine the cucumber with the yogurt in a bowl.
4. Add the garlic and mix well.
5. Add the remaining olive oil and lemon juice.
6. Stir well and adjust salt if preferred.
7. Cover this with a tight fitting lid and keep it in the fridge for couple of hours.
8. Sprinkle the mint leaves and pepper powder on top. Stir once.
9. Serve as a dipping sauce or as an accompaniment.