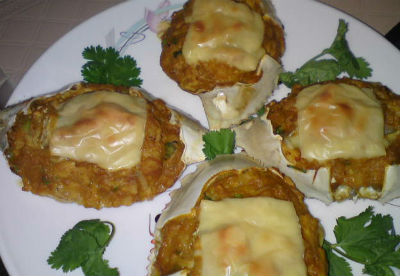 Ingredients:
Crabs – 3, washed
Butter -2 tblsp
Onion – 1, medium, minced
Lemon Juice – 1 tsp
Egg – 1, small, beaten
Breadcrumbs – 3 to 4 tblsp
Butter – 2 tblsp
Ginger Garlic Paste – 1 tsp
Turmeric Powder – 1/8 tsp
Black Pepper Powder – a small pinch
Coriander Leaves – 1 tsp, finely chopped
Salt as per taste
Method:
1. Boil the crabs in a pan of boiling water till they turn red.
2. Drain and cool.
3. Remove the shells, wash and keep aside.
4. Remove and discard the gills and stomach pouch.
5. Remove the meat and keep aside. Crack the claws and remove the meat from inside.
6. Heat 1 1/2 tblsp butter in a pan.
7. Add the onions and saute till soft.
8. Add the green chillies, ginger garlic paste, turmeric powder, pepper powder and salt.
9. Cook for a minute and add the crab meat.
10. Cook for a minute or two.
11. Add the coriander leaves and lemon juice.
12. Remove from heat.
13. Add the egg and mix.
14. Spoon the mixture into the crab shells and sprinkle some breadcrumbs.
15. Add a little butter and bake till golden brown.
16. Serve hot.
image credit: kimmy