A yummy, simple to make cookie ideal for teatime or as an evening snack.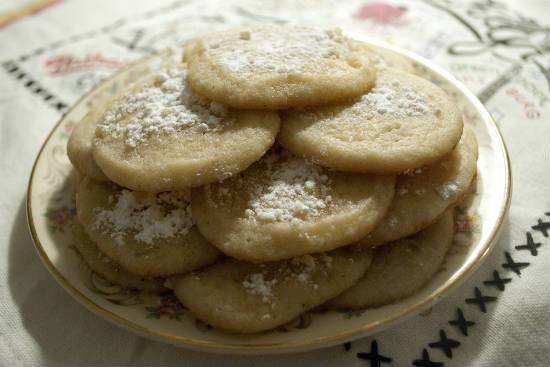 Ingredients:
Plain Flour – 2 cups
Butter – 225 gms, slightly salted
Icing Sugar – 1 1/2 cup
Ginger – 4 to 6 tblsp, minced
Lemon Zest – 2 tsp
Lemon Juice – 3 tsp
Method:
1. Transfer the flour to a large bowl.
2. Cut the butter into small cubes and add to the bowl.
3. Add all the other ingredients.
4. Mix well until all ingredients are evenly combined and it resembles a thick ball.
5. Pinch small portions of the mixture and roll them into 1 inch balls.
6. Place them on a baking tray lined with parchment paper and press them slightly to form a medium cookie (about 2 inch rounds).
7. Place the tray into a preheated oven at 350F/175C and bake for 10 to 15 minutes or until golden.
8. Remove and allow it to cool.
9. Sprinkle some icing sugar on top, if desired.
10. Store them in a clean, airtight container.
11. Serve as required.