A delicious dessert for any occasion. Instant hit with the kids.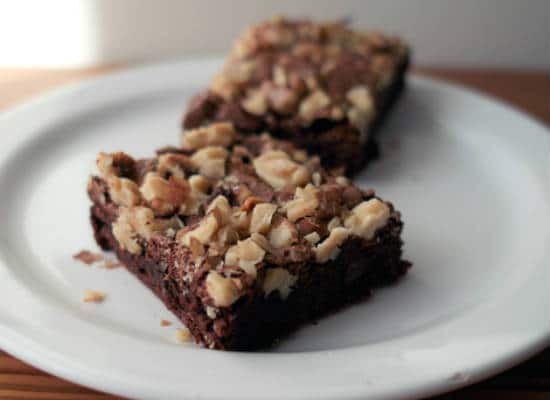 Ingredients:
Walnuts – 2 cups, coarsely chopped + some for garnishing
Maida – 1 cup
Cocoa Powder – 1 cup, unsweetened
Butter – 1 cup
Sugar – 2 cups
Eggs – 4, large or 7 to 8 medium
Vanilla Extract – 2 tsp
Baking Powder – 1/2 tsp
Salt – 1/2 tsp
Method:
1. Mix the maida, cocoa powder, baking powder and salt in a large bowl.
2. Heat butter in a pan over low flame.
3. Remove the pan from flame when the butter has fully melted.
4. Add sugar, eggs and blend well.
5. Add the vanilla extract.
6. Add to the maida mixture and mix well.
7. Add the walnuts and stir to mix.
8. Spread this onto a greased baking pan lined with foil.
9. Place the pan in a preheated oven at 350F/175C for about 25 to 30 minutes or until a skewer inserted in the center comes out clean.
10. Remove and cool completely. Before it cools complete, garnish with some finely chopped walnuts.
11. Remove the foil and cut into small/medium squares or rectangles.
12. Store in an airtight container in the fridge.
13. Stays good for a week.