Methi Paneer is a popular North Indian side dish for rotis, chapatis, naan and pulaos. Simple and easy to make, it is a rich and creamy dish that can be paired with almost any main course . Paneer dishes are always a popular feature in any occasion and this one is no different.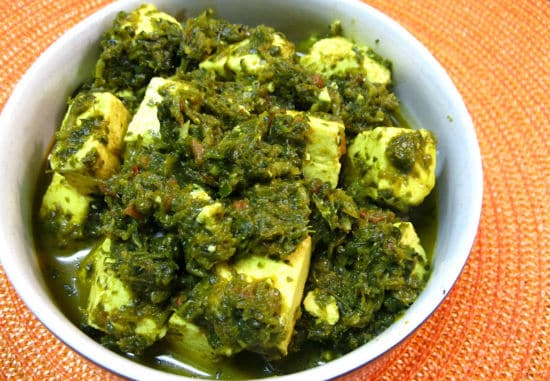 Ingredients:
Paneer – 250 gms
Fenugreek Leaves (Methi) – 500 gms
Onion – 1, finely chopped
Water – 2 cups
Oil – 1/4 cup
Turmeric Powder – 1 tsp
Chilli Powder – 1 tsp
Pepper Powder – 1 tsp
Garam Masala – 1 tsp
Cream – 2 tbsp
Salt as per taste
Method:
Cut and wash the fenugreek leaves.
Apply salt and keep aside for 30 minutes.
Squeeze out the water out of fenugreek leaves and wash again.
Boil in 2 cups water for 5 minutes.
Drain off the water and squeeze the fenugreek leaves to remove all traces of water.
Heat the oil in a pan.
Fry the onion, add the fenugreek leaves and saute for 5 minutes.
Add the paneer cubes and the dry spices.
Cook for 5 minutes.
Add the cream and remove from flame.
Serve hot.