A popular dish from the Singaporean cuisine, the Black Pepper Crabs is very popular in Singapore, Malaysia and surrounding regions. This is a spicy, buttery dish that can be served as a main course for any occasion.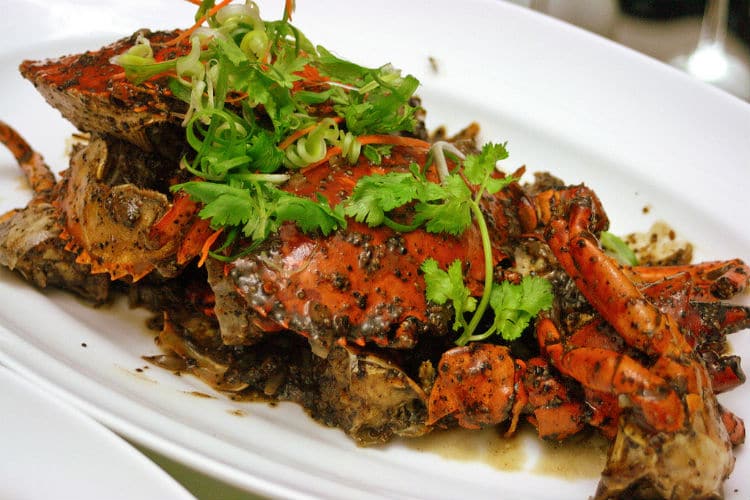 Ingredients:
Large Crabs – 2
Onion – 1, finely chopped
Garlic – 3 large cloves, finely chopped
Turmeric Powder – a pinch
Green Chilly – 1, slit lengthwise
Black Pepper Powder – 3/4 tsp
Butter – 3 tsp
Salt as per taste
Curry leaves – handful
Coriander leaves to garnish
Method:
Clean and wash the crabs thoroughly.
Boil 1 1/2 litres of water in a large pan over medium flame.
Add the crabs and simmer for 5 minutes.
Drain and cool.
Remove the top shells and keep aside.
Cut the crab into 4 pieces and crack the claws.
Melt butter in a nonstick frying pan over medium flame.
Saute the onions and garlic until onions turn translucent.
Add curry leaves, pinch of turmeric powder, slit green chilly, pepper powder and salt.
Mix well.
Add the crabs and mix well.
Remove when the crabs are heated through, ensuring they are not overcooked.
Garnish with coriander leaves.
Serve hot.