Crab Wontons are a popular Chinese appetizer snack made with crabmeat and cream cheese. If cream cheese is not available, you can substitute it with paneer.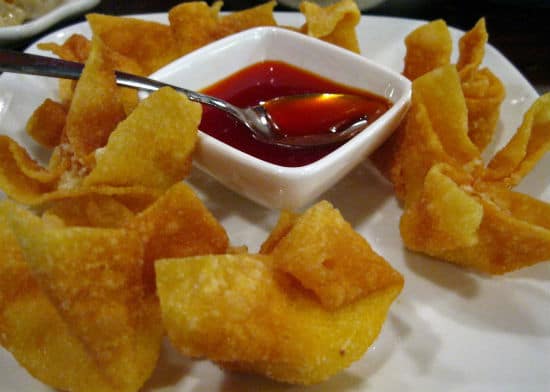 Ingredients:
Crabmeat – 350 gms
Cream Cheese (or Paneer) – 500 gms
Garlic Powder – 1/2 tsp
Wonton Wrappers – 35 to 40 (available in supermarkets or speciality stores)
Eggs – 2, slightly beaten
Salt – 1 tsp
Oil for frying
Sweet and Sour Sauce to serve
Method:
1. Ensure the crabmeat does not have any shells.
2. Mix the crabmeat, cream cheese, salt and garlic powder in a bowl.
3. Place one wonton wrapper on a clean, flat surface.
4. Brush the edges with the beaten egg.
5. Place one or two tsp of the crabmeat mixture in the center.
6. Fold the wrapper from the bottom corner to form a triangle.
7. Brush the edges with water or egg mixture and seal.
8. Pinch the two folded corners together.
9. Heat oil in a deep frying pan.
10. Fry the wontons until golden brown.
11. Remove and drain excess oil.
12. Serve with sweet and sour sauce or sweet chilli sauce.