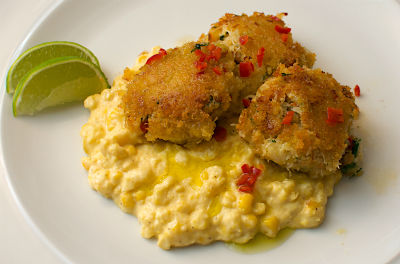 Ingredients:
Crab Meat – 125 gms
Spring Onions – 2, chopped
Parsley – 1/2 tsp, chopped
Mayonnaise – 2 tsp
Mustard Seeds – 1/2 tsp
Worcestershire Sauce – 1/2 tsp
Hot Chilli Sauce – 1/4 tsp
Lemon Juice – 1 tsp
Breadcrumbs – 1/4 cup + extra
Celery – 1/2 stalk, diced
Red Capsicum – 1/2, diced
Oil as required
For the corn puree:
Corn Kernels – 1/2 cup, grilled or lightly roasted
Butter – 1/2 tblsp
Water – 1/4 cup
Salt as per taste
Black Pepper Powder as per taste
Method:
1. Heat butter in a pan over medium flame.
2. Add the corn kernels and water.
3. Simmer for 10 minutes and puree the mixture until smooth in a blender.
4. Sprinkle salt and pepper powder.
5. Keep aside.
6. Heat oil in a pan.
7. Add the capsicum, onions and celery.
8. Saute until soft.
9. Add salt and pepper powder.
10. Mix well and remove. Keep aside.
11. Combine the crab meat, spring onions, parsley, mayonnaise, mustard seeds, worcestershire sauce, lemon juice and breadcrumbs.
12. Add the capsicum, celery and onions.
13. Mix well.
14. Shape the mixture into round patties.
15. Dredge the patties in breadcrumbs on both sides.
16. Heat oil in a non-stick pan.
17. Pan-fry the crab cakes until golden, for 2 minutes on each side.
18. Remove and transfer to a plate.
19. Spoon over the corn puree on top and serve.
image credit: jonoandjules.com