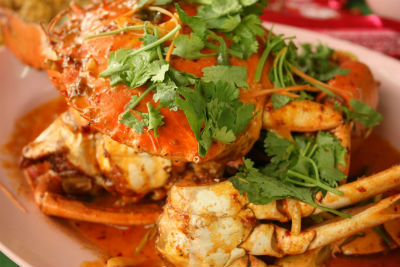 Ingredients:
Crabs – 4, medium, about 750 gms, lungs, fibrous tissues and shells discarded
Oil – 2 tblsp
Coconut Milk – 1 1/4 cups, thin
Salt – 1/2 tsp
Lime Juice – 1 tblsp
Coconut – 2 tblsp, grated, dry roasted till light brown
Curry Leaves – few
For the masala paste:
Small Onions – 4 to 5
Garlic – 3 cloves
Ginger – 1/2 inch piece
Fenugreek Powder – 1/4 tsp
Red Chilli Powder – 1 tsp
Turmeric Powder – 1/2 tsp
Cinnamon Powder – 1/4 tsp
Method:
1. Cut the crabs into half down the centre and cut them into 2 pieces.
2. Separate the claws and lightly crack them.
3. Heat oil in a pan over medium flame.
4. Saute the ground masala paste for 4 to 5 minutes.
5. Add the coconut milk, salt and lime juice.
6. Cook for 8 to 10 minutes.
7. Add the coconut and simmer for 3 to 4 minutes.
8. Now add the crabs and curry leaves.
9. Cook for 5 to 8 minutes until the crabs are cooked and gravy is thick.
10. Keep stirring from time to time..
11. Serve hot with rice.
This recipe is also featured under "5 Simple Recipes to Try at Home" by Declan Lockheed / Twinkl