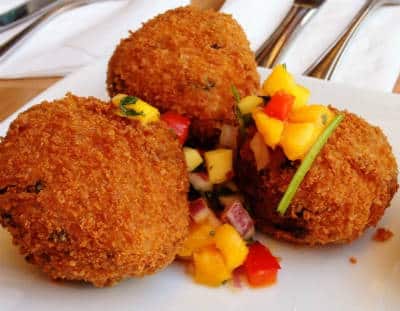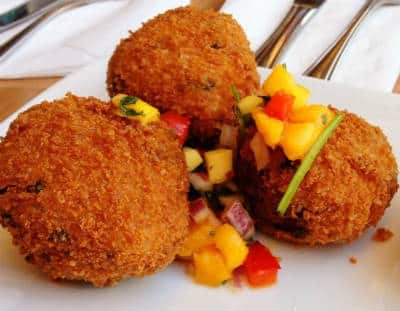 Ingredients:
Crabmeat – 175 to 200 gms, cooked
Pork – 100 gms, ground
Potatoes – 1/4 cup, mashed
Fish Sauce – 1/2 tblsp
Soy Sauce – 1/2 tsp
Garlic – 2 tsp, finely chopped
Coriander Leaves – handful, chopped
Coriander Roots – 1/2 tblsp, cleaned, finely chopped
Water – 1 tblsp
Salt as per taste
Black Pepper Powder as per taste
Egg – 1, small, beaten
Plain Flour as required
Oil – 2 tblsp
Method:
1. Combine the garlic, coriander roots, water, fish sauce, soy sauce, a pinch of salt and pepper powder.
2. Blend well until smooth.
3. Transfer to a bowl.
4. Add the pork, crabmeat, mashed potatoes, coriander leaves and egg.
5. Mix well and shape the mixture into small/medium balls.
6. Fllaten them lightly and dip them in the flour ensuring they are coated lightly.
7. Heat oil in a pan over medium flame.
8. Stir-fry the prepared cakes until golden brown and cooked, about 5 minutes.
9. Remove and drain excess oil.
10. Serve with ketchup or a spicy sauce and salad of choice.