Potato chips are famed to be the leading contributors to rapid weight gain and as such healthier alternatives are the need of the hour. This article gives you 5 healthy alternatives to potato chips.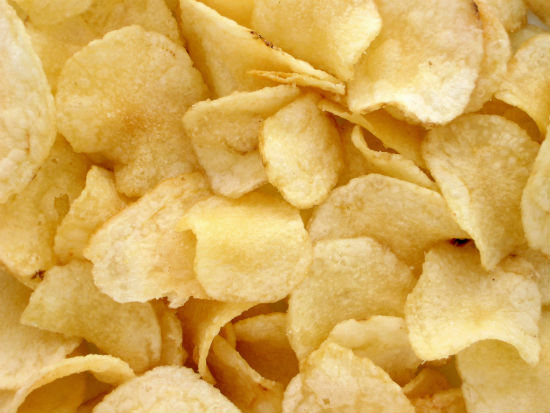 Baked apple slices
The crispy, crunchy, flavored and fiber rich chips can be home prepared from two cups water, 1 1/2 cups sugar, three lemons, two small crisp, dried and washed apples. Take a small pot and bring the combination of sugar and water to a gentle boil on mild heat. Keep aside to cool. With a sharp knife, dice each apple with the core part being prominently targeted. Pit and spray lemon juice on slices. Dip slices in syrup and leave them overnight. Next morning, remove the apples and get them slightly dried on a non-sticky towel. Put them in a single layer on a baking sheet lined with parchment paper. Have them baked in a oven preheated to 200F for an hour.
Taro chips
Take one large peeled and diced taro, one tsp salt and olive oil. The peeled taro roots are to be washed and then sliced into half inch thick pieces. Have each side of slices brushed with olive oil. Take a baking sheet lined with parchment paper and place the slices in a single layer to be sprinkled with salt. Bake the same in an oven preheated to 400F for ten minutes until golden crispiness surfaces.
Sweet potato chips
The Vitamin A packed chips will be prepared from one washed and dried sweet potato. The spice blend will be made from two tbsp vegetable oil, one tsp salt, 1/4 tsp each of cayenne pepper, garlic powder, cumin powder, pepper, nutmeg and paprika. Have the potato sliced crosswise thinly and coat them with spice blend. Arrange them in a layer on baking pan lined with parchment paper. Cook in an oven preheated to 200F for fifty minutes. Once the slices shrink from dehydration, turn them over and cook for forty minutes till the edges get crispy and fluted. Cool chips on baking sheets. Before serving, keep the chips stored in an airtight container for four days.
Kale chips
The delectable snack will be made from one small kale leaf bunch, extra-virgin olive oil, vinegar and salt. Have the oven preheated to 300F. The inner ribs from each leaf are to be cut away and discarded. Tear the leaves into small pieces. After washing and completely drying the pieces, place them in a bowl and add olive oil. Distribute the oil consistently on kale pieces by seal bagging and squeezing. After adding remaining olive oil, get the bag squeezed further till each piece gets uniformly coated with oil. Spray vinegar and repeat the above process. Roast the leaves by arranging them in a single layer over a baking sheet for half an hour. Once the chips get adequately crispy, generously sprinkle salt and lap up.
Plantain chips
The addictively tasty chips are made from two green peeled plantains, a little olive oil, chili powder, cumin, cayenne pepper and salt to taste. Thinly slice the plantains. Stir the slices with olive oil, spices and salt in a bowl. Take a cookie sheet with a lining of parchment paper and spread the slices in a single layer. Bake for twenty minutes in an oven preheated to 400F. Once baked, serve them.