A tasty Mexican dish, Quesadillas are a popular snack and quick to make. These mushroom quesadillas are perfect for tea time or evening snack. They can also be served as an appetizer or starter to a meal.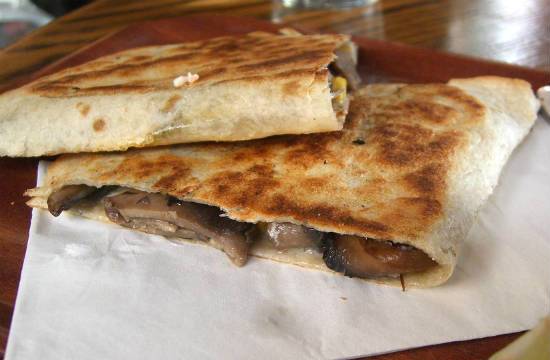 Ingredients:
Tortillas – 2, large
Mushrooms – 2 to 3, chopped (preferably portobello)
Olive Oil as required
Onions – 2, small, finely chopped
Garlic – 1 clove, finely chopped
Parsley – 3 tsp, chopped
Zest of 1/4 Lemon
Cheese – 200 gms, grated
Sea Salt as per taste
Black Pepper Powder as per taste
Method:
1. Heat 1 tblsp oil in a pan.
2. Saute the mushrooms for a minute.
3. Sprinkle salt and pepper.
4. Cook for another two minutes.
5. Add the onions and another 1 tblsp oil.
6. Saute until onions turn soft.
7. Add garlic and cook for another minute or two.
8. Add the parsley, lemon zest and stir well.
9. Place the tortillas on a flat surface.
10. Spread the mushroom mixture on one half of the tortillas.
11. Sprinkle some cheese on top and fold over to resemble a half moon.
12. Brush with a little olive oil.
13. Heat a frying pan over medium flame.
14. Add a little oil and place the quesadillas to the pan.
15. Cook until golden, crisp and the cheese starts to melt.
16. Remove and cut into wedges.
17. Serve with salsa or sauce or dip by the side.