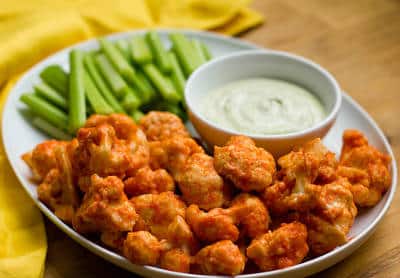 Ingredients:
Cauliflower – 5 cups, chopped
Water – 2 cups
Mixed Herbs – 1 tsp
Salt – 1 tsp
Black Pepper Powder – 1 tsp
Parmesan Cheese – 2 cups
Pastry Sheets – 2
Extra Virgin Olive Oil – 5 to 6 tblsp
White Sesame Seeds – 2 tblsp
Oil as required
Gram Flour – 1/2 cup
Maida – 1/2 cup
Method:
1. Gently boil the water in a pan.
2. Add the cauliflower and cook for 20 to 30 minutes.
3. Remove and drain the water, reserving about 1/4 cup.
4. Grind the cauliflower, mixed herbs, salt and reserved water till smooth.
5. Add cheese and keep aside to cool.
6. Cut the pastry sheets into small triangles.
7. Add the olive oil and sesame seeds together in a bowl.
8. Brush the pastry sheets with this and bake in a preheated oven at 380F/190C for 10 minutes or until crisp and golden.
9. Add 1 tsp of the cauliflower mixture into the center of the triangle and sprinkle black pepper powder.
10. Serve at once.
Alternate Method:
Follow steps 1 to 3.
4. Mix the herbs and salt in a bowl.
5. Add gram flour, maida, cheese and mix well, adding a little water.
6. Heat oil in a pan over medium flame.
7. Dip the cauliflower pieces in the cheese mixture.
8. Fry them in hot oil till golden and crisp.
9. Transfer to a plate.
10. Sprinkle pepper powder and sesame seeds.
11. Serve with ketchup or barbecue sauce.
image credit: doughingrogue.com