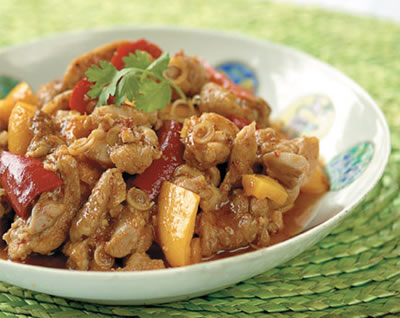 Ingredients:
Chicken Thighs – 250 gms, boneless, cut into small pieces
Garlic – 2 cloves, minced
Oil – 1 tblsp
Red Chilli – 1, small, deseeded, chopped
Capsicum – 1/2, small, deseeded, cubed
Chicken Stock – 1/4 cup
Tamarind Extract – 1 tblsp
Sugar – 1/2 tblsp
Coriander Leaves – few, chopped
Mix together for the marinade:
Fish Sauce – 3/4 tblsp
Sugar – 1/2 tblsp
Red Chilli Flakes – 1 tsp
Black Pepper Powder – 1/8 tsp
Lemongrass – 1 stalk, small, inner part finely sliced, outer layers discarded
Method:
1. Marinate the chicken pieces in the prepared marinade and mix well.
2. Cover and keep aside for 30 minutes.
3. Heat oil in a pan over medium flame.
4. Add the garlic and stir-fry for a minute.
5. Add the marinated chicken, red chilli and capsicum.
6. Increase flame to high and stir-fry for 2 minutes or till the chicken is browned.
7. Reduce flame to medium.
8. Add the stock, tamarind extract and sugar.
9. Bring to a boil and simmer for 3 minutes.
10. Cook till the chicken is tender and cooked.
11. Remove and transfer to a serving plate.
12. Garnish with coriander leaves.
13. Serve hot with rice.