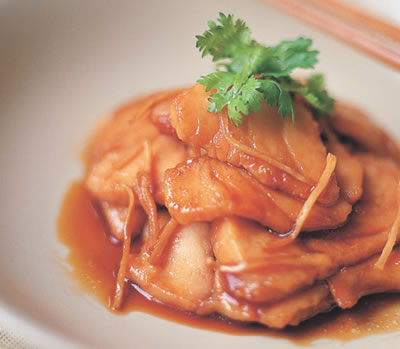 Ingredients:
Fish Fillets – 350 gms, sliced
Oil – 1 tblsp
Ginger – 1/4 inch piece, peeled, grated
Coriander Leaves – handful, chopped
For the caramel sauce:
Sugar – 1/3 cup
Fish Sauce – 1/4 cup
Small Onions – 4, finely sliced
Black Pepper Powder – 1/4 tsp
Method:
1. Heat a small pan over low heat.
2. Add sugar and keep stirring till it begins to caramelize, about 3 minutes.
3. Remove from flame and add fish sauce.
4. Place the pan over flame again and bring to a boil.
5. Simmer for 5 minutes until it turns to a thick syrup.
6. Add the small onions and pepper powder.
7. Mix well and remove from flame.
8. In a different pan heat oil over medium flame.
9. Add the fish slices and fry for 2 minutes.
10. Add the ginger and caramel sauce.
11. Bring to a boil.
12. Reduce flame to low and simmer for 5 more minutes or until the fish is cooked.
13. Transfer to a serving plate.
14. Garnish with coriander leaves.
15. Serve hot.