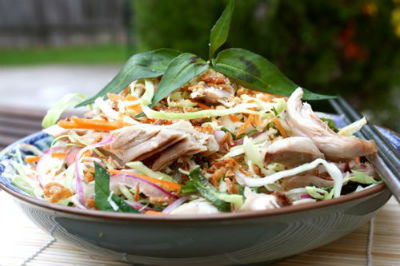 Ingredients:
Chicken Breasts – 225 gms, boneless, skinless
Mixed Salad Greens – 60 gms
Peanuts – 1/4 cup, roasted and chopped
Carrot – 1, grated
Rice Noodles – 150 gms, soaked in water for 30 minutes, drained
Broccoli – 1 stalk, blanched, separated into florets
Coriander Leaves – few, chopped
Mint Leaves – few, chopped
Basil – few, chopped
Jalapeno – 1, small, sliced into rings
For the dressing:
White Vinegar – 1/2 tblsp, distilled
Fish Sauce – 2 1/2 tblsp
Lime Juice – 1 1/2 tblsp
Sugar – 1 tsp
Chilli Sauce – 1 tsp
Method:
1. Combine all the dressing ingredients with 1 tblsp of water and stir well till the sugar has dissolved.
2. Keep aside.
3. Heat a pan over medium flame.
4. Pour 1 1/2 cups of water and bring to a boil.
5. Add the chicken and reduce flame.
6. Cover with a lid and simmer for 10 minutes or until it is just cooked through.
7. Remove the chicken and allow it cool.
8. Once cooled, cut into 1/2 inch slices.
9. Heat a pot of water and bring to a boil.
10. Arrange the salad greens and grated carrot on a plate.
11. Add the broccoli florets.
12. To the pot of water, add the noodles and cook for a minute.
13. Drain and rinse under cold running water.
14. Place the noodles in the centre of the plate and spoon over some of the dressing.
15. Add the chicken slices on top.
16. Garnish with peanuts, jalapeno, basil, coriander and mint leaves.
17. Add some more dressing on top.
18. Serve.
Note: image is for illustration purposes only and not that of the actual recipe
Image credit: Food for Four.