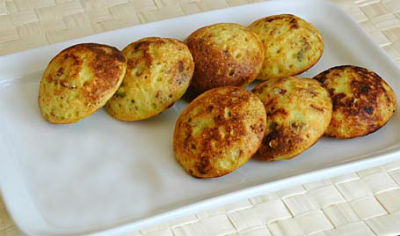 Ingredients:
Rice – 2 cups
Bengal Gram Dal – 1/4 cup
Urad Dal – 1/4 cup
Moong Dal – 1/4 cup
Onion – 3
Green Chillies – 5 to 8
Ginger – 1/2 inch piece
Coriander Leaves – 2 tblsp, chopped
Red Chilli Powder – 1/2 tsp
Cumin Seeds – 1/2 tsp
Oil as required
Salt as per taste
Method:
1. Combine the dals and rice in a bowl.
2. Soak them in water for 6 to 8 hours or overnight.
3. Grind them together to an idli batter consistency.
4. Add salt and mix well.
5. Grind together the ginger and green chillies to a paste.
6. Add to the batter and mix.
7. Add the coriander leaves, chopped onions, red chilli powder and cumin seeds.
8. Mix well and cover with a lid for 5 minutes.
9. Pour 1 tblsp of the batter into a greased paniyaram pan.
10. Cover the pan with a lid and cook over low flame.
11. When the edges turn light brown flip them over and cook till the other side is golden brown.
12. Remove and serve hot with chutney or sauce of choice.
Gunta Ponganalu is a delicious Andhra breakfast dish. It is called as Paniyaram in Tamil.
image credit: nandyala.org