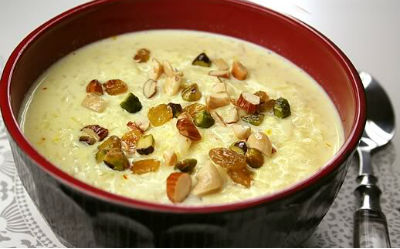 Ingredients:
Meal Maker Balls – 30
Milk – 1 litre
Sugar – 1 1/2 cups
Rose Water – 1 tsp
Ghee – 2 tblsp
Cashewnuts – few
Raisins – few
Method:
1. Fry the cashewnuts and raisins in little ghee. Keep aside.
2. Bring a pan of water to a boil and add the meal maker balls.
3. Cover and simmer for 5 minutes.
4. Remove the balls and rinse them in cold water.
5. Squeeze dry and grind coarsely in a mixie.
6. Heat ghee in a small frying pan.
7. Add the ground meal maker and stir well.
8. Heat milk till it starts to boil.
9. Add the meal maker and simmer over low flame for 20 minutes.
10. Add sugar and continue to simmer.
11. When the milk starts to boil again, add the fried cashews, raisins and rose water.
12. Remove and keep aside to cool.
13. Serve.
Note: image is for illustration purposes only and not that of the actual recipe.