A unique and a different payasam (kheer). Chow Chow (or Chayote Squash) is low in calorie and has a high nutritional value. They are a very good source of Vitamin C, dietary fiber and folates.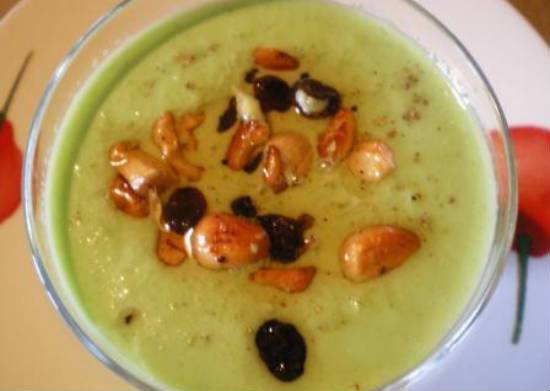 Ingredients:
Chow Chow – 200 gms
Milk – 400 ml
Sugar – 200 gms
Cashew Nuts – 15 to 20
Raisins – 15 to 20
Ghee – 200 ml
Condensed Milk – 100 ml
Cardamom Powder – 1/4 tsp
Method:
1. Peel and finely chop the chow chow.
2. Pressure cook, mash well and keep aside.
3. Fry the cashew nuts and raisins in little ghee. Keep aside.
4. Boil the milk and add the mashed chow chow.
5. Bring to a gentle boil.
6. Add sugar and stir well until fully dissolved.
7. Add the cardamom powder, condensed milk, raisins and cashew nuts.
8. Mix well and remove from flame.
9. Serve.