Sheer Khurma (or Milk with Dates as is commonly known) is a dessert made with roasted vermicelli and dates for festive occasions. Said to originate in Central Asia, this is a rich and creamy dessert made during Eid.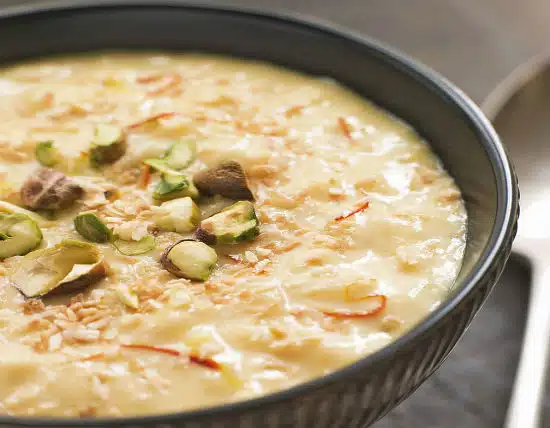 Ingredients:
Vermicelli – 100 gms
Milk – 1 litre
Sugar – 1 cup
Cardamoms – 3
Ghee – 1/4 cup
Saffron Strands – few
Dates – 3 to 4, seedless, chopped
For Garnish:
Almonds – 2 tsp, chopped
Pistachios – 2 tsp, chopped
Cucumber Seeds – 2 tsp
Method:
1. Heat 2 tsp of ghee in a pan over medium flame.
2. Saute the ingredients for garnishing until golden.
3. Keep aside.
4. Add the remaining ghee to the pan.
5. Add the vermicelli and roast until golden.
6. Remove and keep aside.
7. Heat milk in a pan over medium flame.
8. Crush the cardamoms and add to the milk along with saffron.
9. Bring it to a boil.
10. Add sugar and stir until the sugar has fully dissolved.
11. Add the roasted vermicelli, chopped dates and simmer for 15 minutes.
12. Remove from flame.
13. Garnish with the almonds, pistachios and cucumber seeds.
14. Serve.