A creamy, thick and deliciously aromatic dish that is sweetened just right for all occasions.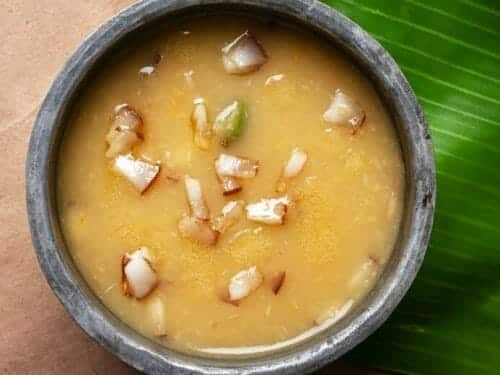 Mupparuppu Payasam in Tamil literally translates to 3 Dal Payasam/Kheer. Dals or paruppu are a quintessential ingredient in the Indian cuisine. So much that it is not just a savoury in terms of Lentil soups/stew or curries eaten along with rice and roti, but has also carved itself into an essential ingredient for snacks and sweets. It is virtually impossible to think of most snacks without the dals, especially Chana dal flour or besan/kadale maavu/kadale hittu as it is locally known. One of the earliest mentions of dals has been in the texts from the Indus Valley Civilization. It was during the Mughal era that various types of dals emerged, became popular and a few prepared especially for royalty.
Over a period of time, royal chefs and home cooks began incorporating the dal into desserts in the form of payasam/ kheer and other burfis and laddus. Dal based kheers are traditionally made with coconut and jaggery or gur which is unrefined cane sugar extract that contains many minerals and iron which is lacking in the new-age white or refined sugar. Yellow Moong dal or the split Green gram is the most common variety used to make kheer that is very popular across all the four Southern states. In this recipe, we give the traditional dish a twist by combining the flavours of two other popular dals – Chana Dal/ kadalai paruppu and Tur/arhar/pigeon dal, hence the name Mupparuppu Payasam or 3-Dals. Pongal or Sankrati season is the best time to make this  creamy, thick and deliciously aromatic dish that is sweetened just right.  Read on to know how easy the Muparuppu Payasam really is.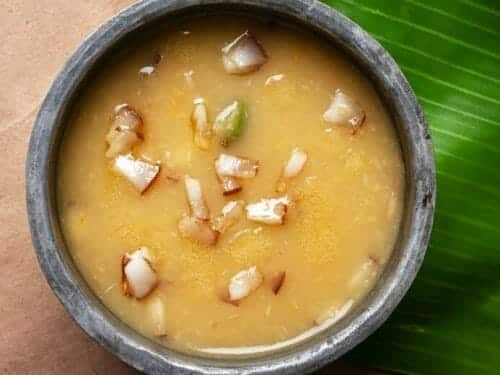 Mupparuppu Payasam (3 Dal Payasam)
A creamy, thick and deliciously aromatic dish that is sweetened just right for all occasions.
Ingredients
100

g

Moong Dal

50

g

Bengal Gram Dal

50

g

Toor Dal

200

g

Jaggery

4

tbsp

Freshly Grated Coconut

3

Cardamon

2

tbsp

Ghee

1

tbsp

Raw Rice

for garnishing

Cashew Nuts

for garnishing

Raisins
Instructions
Wash and soak the raw rice in water for 1/2 hour and drain the excess water.

Soak all the dals together for 1/2 hour and pressure cook them till soft with required water.

Grind the soaked rice, along with cardamon and coconut into a fine paste like texture.

Grate the jaggery and set aside.

Take a thick bottom vessel and heat a little (around 100 ml) water. Add the grated jaggery and boil it until it is completely dissolved. Remove from flame.

Filter this liquid using a strainer to remove any grit or dirt.

In another thick bottomed pan, heat the cooked dal under medium flame.

Mash it well and mix in the rice-coconut paste. Stir well.

Add the jaggery syrup and allow it to boil on low flame until it thickens.

To another pan, heat ghee and roast the cashews and raisins.

Remove the payasam mixture from flame and garnish with roasted cashews, raisins and ghee.

Serve hot.