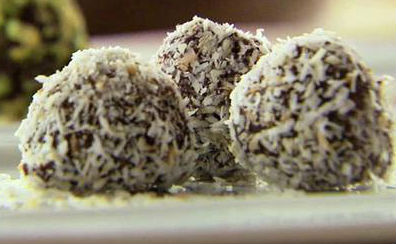 Ingredients:
Bittersweet Chocolate – 22g gms
Whipping Cream – 1/3 cup, heavy
Coffee Beans – 1/8 cup, finely ground
Cinnamon – 1 stick
Cloves – 2, whole
Allspice Berries (Kebab Cheeni) – 3
Cocoa Powder – 1/4 cup, unsweetened
Butter – 1 tblsp, unsalted
Icing Sugar
Method:
1. In a pan, combine the chocolate, cream, coffee beans and butter.
2. Cover and cook on low flame for 60 minutes stirring once or twice until the chocolate melts.
3. When the chocolate has almost melted fully, whisk well and pour it into a bowl.
4. Place the bowl in the fridge for 1 hour or until it is hard enough to form into balls.
5. Meanwhile, combine the cinnamon, allspice and cloves and grind them to a coarse powder.
6. Transfer to a bowl.
7. Add the cocoa powder and mix well.
8. Make small balls of the chocolate mixture and roll them in the cocoa powder.
9. Then place them in a baking tray lined with aluminum foil.
10. Place the tray in the fridge overnight.
11. Then sprinkle the icing sugar on top and set aside for 1 hour at room temperature.
12. Serve.
Note: image is for illustration purposes only and may not be that of the actual recipe.