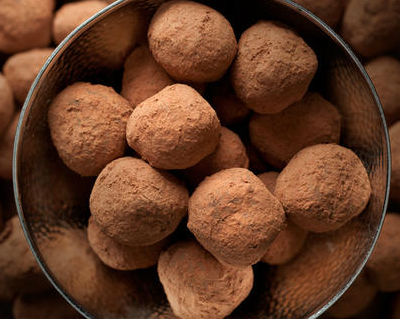 Ingredients:
Bittersweet Chocolate – 120 gms, chopped
Heavy Cream – 1/4 cup
Sea Salt – 1/8 tsp
Vanilla Extract – 1 tblsp
Cocoa Powder – 1/4 cup, sifted
Method:
1. Heat a small pan over medium flame.
2. Add the cream and bring it almost to a boil.
3. Remove and pour it over the chocolate in a heatproof bowl.
4. Keep aside for 5 minutes to melt the chocolate.
5. Add 1/8 tsp salt and whisk until smooth.
6. Add vanilla extract and whisk well.
7. Cover and keep it in the fridge for 2 hours.
8. Scoop a teaspoon of the chocolate and roll into a small truffle.
9. Spread the cocoa powder in a tray and roll the truffle in it.
10. Do the same till all the chocolate mixture has been used.
11. Keep the plate in the fridge for 20 minutes.
12. Serve chilled.
13. These truffles will stay good for up to a week if stored in an airtight container.