a delicious combination of crisp pastry, cream, and chocolate.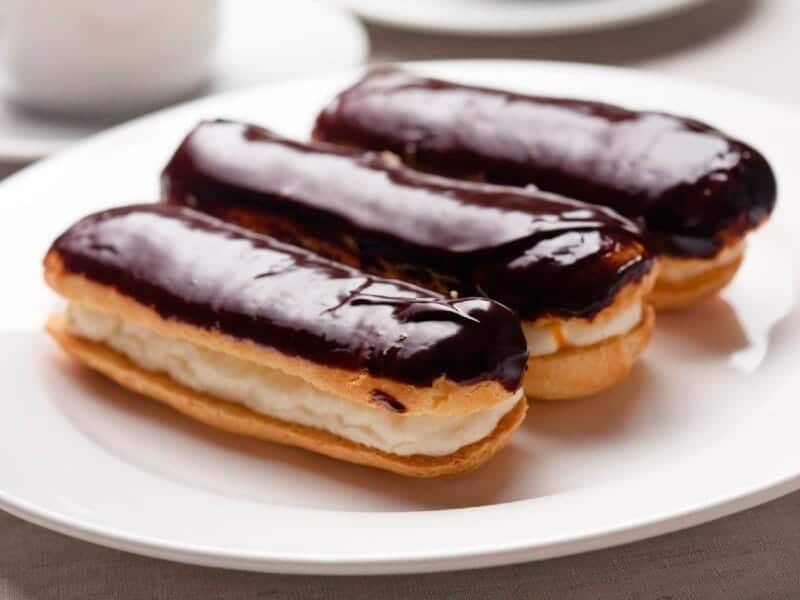 Chocolate Eclairs are a rich, decadent pastry that is traditionally filled with a sweet, thick chocolate cream.
The dough is traditionally made from a simple pastry dough that is rolled and cut into strips that are then layered with the filling before being cut in half and baked. The pastry cream is traditionally made from eggs, sugar, whole milk, vanilla extract, and dark chocolate.
Chocolate Eclairs first appeared in the 19th century in France, where they were called "choux à la crème." The name translates to "cabbage filled with cream."
The pastry dough can also be made from puff pastry instead of the traditional dough.
Chocolate eclairs are everyone's favorite dessert. They are delicious and their rich texture melts in your mouth.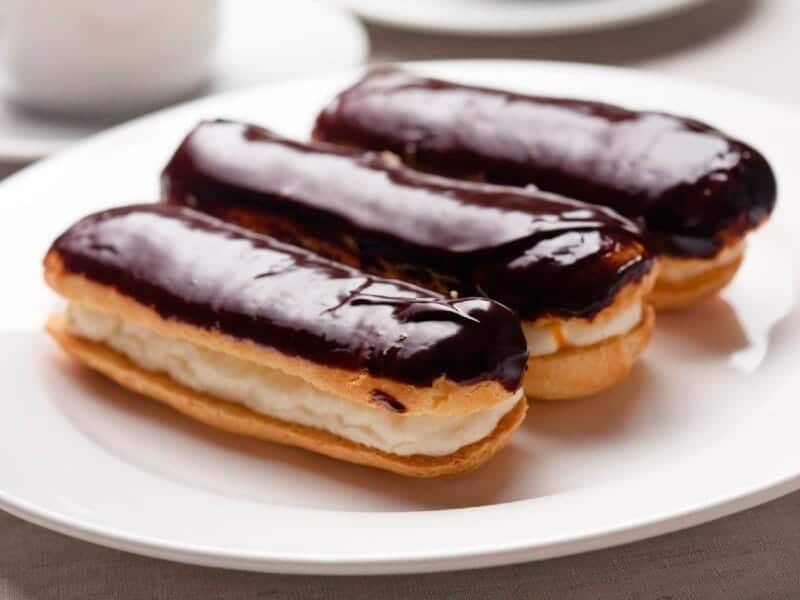 Chocolate Eclairs

Recipe

a delicious combination of crisp pastry, cream, and chocolate. 
Ingredients for
Chocolate Eclairs
For the Filling:
1/3

cup

Sugar

2

tbsp

Cornstarch

1 1/2

cup

Milk

1 to 2

Egg Yolks

1

tsp

Vanilla

3

tsp

Butter

a small pinch

Salt
For the outer shell:
1/4

cup

Butter

1/2

cup

Hot Water

2

Eggs

1/2

cup

Plain Flour

1/4

tsp

Salt
For the frosting:
2

tbsp

Butter - 1/8 cup

1/2

cup

Sugar

powdered

1/2

tbsp

Milk

2

tbsp

Dark Chocolate
How to make
Chocolate Eclairs
To make the filling, fill half a bowl with ice cubes and add enough water to cover the ice.

Mix the sugar, salt and cornstarch in a pan over medium flame.

Gently add the milk and cook for 5 minutes or until it starts to boil.

Allow it to boil for 30 to 60 seconds.

Beat the egg yolks slightly and slowly add some of the hot milk into the eggs.

Now pour the egg mixture into the pan and reduce flame.

Cook over low heat for a minute or until it starts to bubble. Keep stirring all the time.

Remove the pan and add vanilla and butter.

Strain this into another bowl and place this in the ice-water bowl.

Stir from time to time until cool.

Remove and cover with cling film.

Keep in the fridge until cold.

To prepare the shell, place the butter and water in a pan over medium flame.

Cook until it comes a boil.

Add flour and salt.

Stir constantly and cook until the mixture leaves the sides of the pan (about a minute).

Remove from flame and add the eggs.

Stir well to mix.

Spread this on an baking sheet in eclair mould and bake in a preheated oven at 425F for 20 to 30 minutes or until golden brown.

Remove and poke a hole in one end of each shell and keep them in the oven for 20 minutes to dry.

To make the frosting, microwave the chocolate on high heat for 45 seconds and stir.

Once the chocolate has melted completely, add the butter, sugar and milk.

Mix well until smooth.

Now, transfer the chocolate filling into a pastry bag.

Insert the tip into each eclair shell and squeeze in.

Spread some over the top and keep in the fridge until ready to serve.
Notes
Tip: The eclair shell can be of any shape, as desired.