A delicious tea time cake made with ripe bananas and dark chocolate.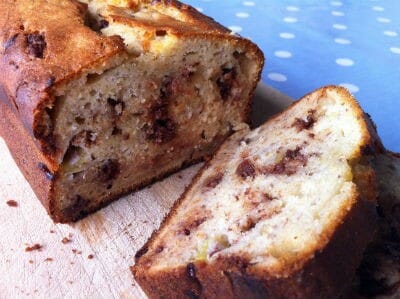 Ingredients:
Maida – 350 gms
Baking Powder – 1 1/2 tblsp
Soda Bicarbonate – 1 tsp
Dark Chocolate – 200 gms, chopped
Caster Sugar – 300 gms
Butter – 250 gms, unsalted, melted
Eggs – 4, large or 6 medium
Salt – 1 tsp
Bananas – 350 gms, ripe, mashed
Vanilla Extract – 2 tsp
Method:
1. Mix the flour, baking powder, soda bicarbonate and salt in a bowl.
2. Add the chocolate and mix well.
3. In a separate bowl, mix the butter and sugar.
4. Add eggs, one at a time, and beat well.
5. Add the vanilla extract and mashed bananas.
6. Add the flour mixture gradually and stir well until combined.
7. Transfer this to a greased loaf tin lined with parchment paper.
8. Place it into a preheated oven at 170C/325F.
9. Bake for 1 hour or until a skewer inserted in the centre comes out clean.
10. Remove and cool.
11. Slice and serve.
12. Store any remaining cake in an airtight container.